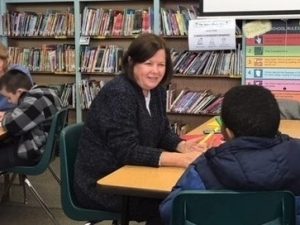 Students seeing other students receive one-on-one support makes for a comfortable learning environment.
As ACTION! Week for Assistance League of Diablo Valley arrives on February 23, the name Anne Banning echoes not only on a local level, it resonates throughout all 120 Assistance League chapters nationwide. In 1919, just over 100 years ago, she and her friend, Ada Edwards Laughlin, founded Assistance League.
Throughout February, chapter members and volunteers who serve on Assistance League of Diablo Valley's Listen Program, a one-on-one endeavor designed to help improve individual student's reading skills, will commemorate Anne Banning's forward-thinking mission to provide a successful reading experience for children in need.
How appropriate that Mrs. Banning is remembered, in that she LISTENED to the needs of those who were at risk. Mrs. Banning's vision was to provide service to all in need, regardless of their race, religion or culture.