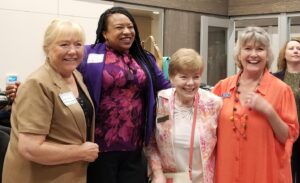 On June 23rd, we had the privilege of attending the Grand Opening of One Safe Place for Community Partners and Stakeholders.  One Safe Place or the North County Family Justice Center is a project of the San Diego County District Attorney's office and is intended to provide services to victims of domestic violence, child abuse, elder abuse, human and sex trafficking among other crimes. This gives victims one place to go for medical care, trauma recovery, therapy, legal assistance, and job counseling, among other services.  This is where victims can come to receive help, regain hope, and begin to heal.
Assistance League of Inland North County became a partner of One Safe Place in 2021.  Our role is to provide gently used business attire for their "Dress to Thrive" boutique that victims can get at no cost for court appearances and job interviews.  These items usually come to us in excellent condition and are not big sellers in our shop, so this partnership is mutually beneficial under our Waste Not program.
The event was both exciting and inspiring as we heard from San Diego County officials, community partners and those who were involved in putting this 40,000 square foot facility together from the beginning.  This project was envisioned more than 20 years ago by Casey Gwinn, then San Diego City Attorney, along with fellow prosecutor Gael Strack, and resulted in the San Diego Family Justice Center, which became a model for many centers around the country. They are both nationally recognized experts on domestic violence issues.
As in any construction project, the North County Family Justice Center was subject to terrible delays, and it opened almost a year later than planned, but the building is spectacular and worth the wait.  The best part of the day was hearing from some of the victims who found hope and healing in their centers in San Diego. The success of these healing services inspired the District Attorney's office to build a facility in North County so people would not have to travel so far and to so many different locations to get the help they needed.
Assistance League of Inland North County is proud to partner with One Safe Place and participate in the Help, Hope and Healing.