Despite the challenges posed by the pandemic, our chapter was able to have a banner year and touched the lives of thousands of local children and their families.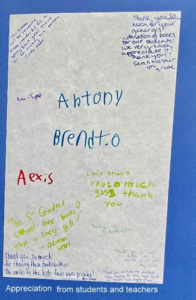 With schools closed, we suspended our Weekend Food for Kids program, and instead provided a total of 4,834 $20 grocery gift cards to needy families at 6 area schools.  In addition, we expanded the program to include distribution during the summer months.  For our New Clothing for Kids efforts, we provided children with 1095 new clothing items and shoes.  We also distributed 690 toiletry kits and numerous other items such as face masks and essential paper products, along with 86 child-sized, handmade quilts and blankets, most of which were packaged with a new book.  In addition, because we could not provide two partner schools with our usual tutoring services for at-risk first graders, as part of our Literacy for Kids program, we distributed 2917 books to students at each of our 11 partner schools.  Two of the schools received a new book for every student, 6 received books for their summer reading programs, and the other schools received books at various points during the school year.  The accompanying photos show the appreciation of students who received the books and their teachers.  Through our Hugs Pillow Program, rather than providing pillows to help comfort children treated at a local Inova medical clinic that serves low-income families, we distributed 914 pillows to several community agencies and many of our partner schools.  We added books to the pillows going to schools where teachers used them in classes for grades 2 and below to help the young children deal constructively with stress and build self-esteem.  As seen in the photo, the Hugs were a hit with kindergartners,
We are extremely proud of our dedicated members who ensured we could continue to make a difference in our community during a challenging year and to our many supporters whose generosity makes our philanthropic programs possible.