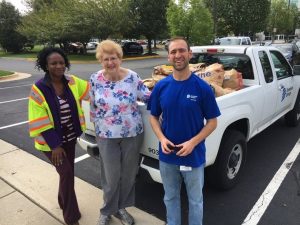 Assistance League of Northern Virginia is thrilled to announce its close partnership with Dominion Energy will continue in the 2019-20 school year. This lasting partnership has contributed greatly to the success of the nonprofit's primary program, Weekend Food for Kids. Through this program, the all-volunteer organization increases food security in vulnerable communities and gives children from low-income families the energy they need to achieve their full potential in school.
In May 2019, Dominion Energy's State & Local Affairs team approved funding in the amount of $6,600. The funds will be used to purchase nonperishable food items to support one of Assistance League's monthly food-packing events.
"Dominion Energy is pleased to continue our support of the Weekend Food for Kids program (now in our 8th year), and to work alongside Assistance League of Northern Virginia team on this vital community outreach initiative," says Deborah Johnson, Regional Policy Director-Northern VA Region, for Dominion Energy.
Assistance League of Northern Virginia is proud to align with Dominion Energy, its employees and The Dominion Energy Charitable Foundation, and is grateful for the company's outstanding efforts to revitalize communities across the region. With Dominion Energy's help, the nonprofit will continue to provide supplemental food to children at risk of hunger at 6 Title I partner schools in Fairfax and Prince William Counties and the City of Alexandria.