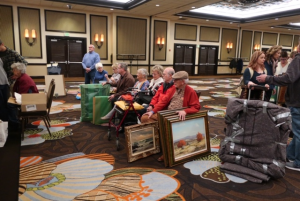 Imagine finding out that the oil painting you have in your attic is worth over $5,000! On Saturday, March 7, over 350 people were able to find out what their art, jewelry, antiques, and other valuables were worth by meeting with expert appraisers from Bonhams International Auction House at the Reno Expo Auctioneer Valuations event.
The experts from Bonhams volunteered their time to support this fundraiser for Assistance League of Reno-Sparks, whose 12 philanthropic programs assist children, seniors, veterans and victims of abuse. Last year, Assistance League spent over $950,000 on these programs, giving back to our community.
I worked the entrance door and was amazed at what people brought into the Atlantis Casino Resort, and I was delighted when people came back and told me that some of their items were very valuable. The lines were long, but people understood that they needed quality attention from the Bonhams specialists when it was their turn.
While scheduled from 10 am until 4 pm, the specialists stayed until 5 pm to make sure they saw everything. Attendees were very appreciative of the expertise of the Bonhams specialists, especially those people who were given exciting news about their treasures.