Kids On The Block Performed by Assistance League of the Chesapeake
The Kids on the Block (KOTB) puppeteers of Assistance League of the Chesapeake have been entertaining second graders in Anne Arundel County for a decade and a half with a series of plays about bullying, and the positive aspects of learning to use kindness and caring in how we treat others, both in and out of school. All children love puppets, so what better way to teach children how to recognize and prevent bullying than with puppets? The KOTB program is nation-wide and was taken up by our organization in 2003. Each year, from October through April, our cast and crew visited schools within the county for our forty five-minute shows. Members of Assistance League of the Chesapeake freely donated their time and talents for an average of nine to fifteen performances each school year. Due to the Covid Pandemic of the past two years, however, we have been unable to offer live shows. Because of this, the KOTB team, in conjunction with the Anne Arundel County Public Schools, have created a video of our show for use in the schools. It includes four skits and runs about 45 minutes. Teachers might consider ten more minutes for questions. In the next few months, we hope to add a picture book to coincide with the video to reinforce the four skits. The number of children who have viewed our performances in the past many years, tops 20,000, with over 4,000 volunteer hours given by our performers. We hope this video will help top those numbers! Why the commitment to the program? The smiles of little ones and the betterment of all our blocks.
During a September 26 sing-along at Sunrise of Severna Park, Bonnie Sysko played drums for about 30 senior residents of the facility.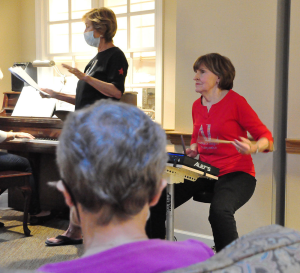 Blind member is drummer for our Sing-alongs that we do at local senior centers and Assisted Living facilities.
https://www.severnaparkvoice.com/stories/bonnie-sysko-serves-smiles-with-a-side-of-rhythm,43070