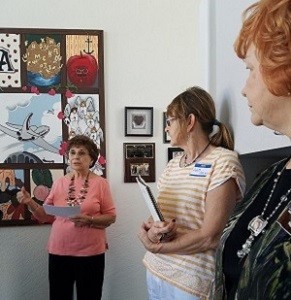 ASSISTANCE LEAGUE OF YUMA CHAPTER grant writer Betty Borland explains to members of the national Assistance League committee how the Yuma chapter runs its Operation School Bell®. The Yuma chapter was recently awarded a grant from the Arizona Community Foundation of Yuma.
The front room of the Assistance League of Yuma's Operation School Bell building is soothing and bright.
Light from long window panes on either side of the wide outer door floods the room, highlighting murals on the walls and colorful decorations, hats and other items on the front desk — welcoming and inviting for the hundreds of children — and now young teens — who pass through its doors each school year.
The signature program of the nationwide Assistance League, the Yuma chapter's Operation School Bell supplies students who are in need with new clothing and shoes for school. The Yuma chapter's auxiliary, Las Dedicadas, makes hygiene and school supply kits as well.
That way, each child who comes through the doors of Yuma's Operation School Bell is equipped for success, said chapter president Nancy Nelson.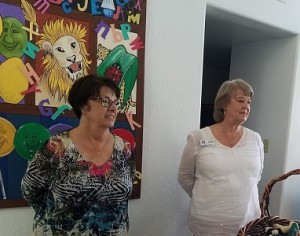 Each chapter runs its operation differently according to its community's needs, said Judy Parker, a member of the national Assistance League committee who visited the Yuma chapter recently to discuss best practices that can be shared among the national organization.
This fall, the Yuma chapter launched a pilot program to outfit middle-school teens as well, said Betty Borland, the chapter's grant writer and Operation School Bell "matron-in-charge."
Being similarly dressed as their peers does wonders for the "self-esteem of seventh and eighth graders," member Carolyn Hoffmeyer said.
Each child receives three outfits consisting of tops and bottoms — two for school and one "regular" outfit for weekend or afterschool wear — five pairs of socks and undergarments and a jacket, Hoffmeyer said. Girls also receive leggings and camisoles as needed. Shoes are supplied by Payless ShoeSource.

Students are given a choice of a small toy car or a small plush doll; three brand-new books; and a hand-knit cap, knitted by members and other community contributors.
"That's a lot of merchandise," Borland said, noting that the Yuma chapter clothed more than 1,200 students last year. Through August 18, more than 350 students have been outfitted. The chapter outfits children through May 1 due to the military and migrant crop season.
That's more than 12,000 individual socks, or 6,000 pairs; 6,000 undergarments; 3,600 shirts and 3,600 pants/skirts/jeans; 1,200 jackets; 3,600 books; 2,400 shoes and countless volunteer hours.
Expenses add up quickly, Borland said, especially as the items are purchased new. While the chapter does take in new clothing donations from local businesses, members feel it's important for children's self-worth not to have hand-me-downs.
While income from the chapter's thrift store and an annual fundraiser do cover some Operations School Bell expenses, the chapter would not be able to reach as many children as it does without the community's support, Nelson said.
"That's why three years ago we started looking for grant funds to supplement our chapter budget," Borland said.
"We've been very, very fortunate," Borland said, relating a story of one member who was flying abroad and shared Yuma's Operation School Bell story with her seatmate. That conversation netted a donation from the Goldman Sachs Foundation, with which the seatmate was associated.
The chapter was awarded another grant last week from the Arizona Community Foundation of Yuma at the Heart of Yuma banquet. The chapter also received grants from the Arizona Community Foundation of Southern Arizona, the United Way of Yuma County, Fort Yuma Rotary, Yuma Realtors Association, the B&G Family Limited Partnership, and other various groups and individuals.
What is unique about the Yuma Operation School Bell is that all the money donated to the chapter goes straight back to the children, Borland said, as the chapter is run by volunteers and does not have a paid staff or paid officers.
"It's very important that the community knows what you're doing here," said Louise Ferdun, of the Diablo Valley Assistance League chapter in northern California, who was visiting along with Parker. "You should be making sure the community knows how much you are supporting the community."
Borland said that the Yuma chapter is grateful for the community's support in "giving to us so we can give to the children."
November 7, 2016; Amy Crawford