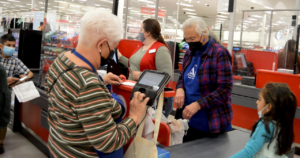 January 24, 2022 – Assistance League of Reno-Sparks is helping clothe new Afghan refugee families who recently were relocated to Reno, Sparks and Carson City. All families were transported to the Reno Target store last Wednesday afternoon by the Northern Nevada International Center. At Target, all children from grades Pre-K through 12 were able to select brand new clothing and receive a package of basic hygiene products including soap, shampoo, toothpaste, and more. The parents were given vouchers so they could shop for clothes in the Assistance League Thrift Shop.
"Many of these families fled their country with no extra clothing, furniture, or supplies," said Ellen Fockler, president of Assistance League. "We put together this special shopping night to show how much we support them and welcome them into our community."
Assistance League has a long history of providing local students with the supplies and clothing they need to be successful. This special shopping event was the kick-off for the spring Operation School Bell® shopping events for deserving students, selected by school counselors at 44 local schools. The children leave with a huge bag of new clothes, wide grins, and a renewed sense of confidence. Each shopping event is staffed with Assistance League volunteers, who check in the students, help add up merchandise prices, and help with check out and bagging.
In fiscal year 2019-2020, Operation School Bell purchased new clothing and school uniform shirts for 14,798 Washoe County School District students. During the 2020-2021 school year, the Operation School Bell program volunteers had to discontinue most of the shopping events but were able to furnish clothing for school clothes closets as well as uniform shirts for many schools. Since Operation School Bell started in 1984, over 69,000 children have been dressed under this program.
"As our largest philanthropic program, Operation School Bell is a huge endeavor that is close to the heart of all of our members," said Ellen Fockler, Assistance League president and Operation School Bell co-chairperson. "As an ex-teacher, I know how important it is for children to come to school with decent clothing. It affects their ability to learn and thrive in a school environment."