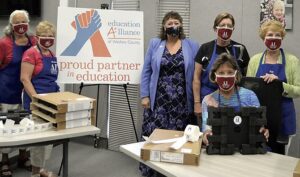 Assistance League worked with Education Alliance to donate over 430 laptops for Washoe County school students.
What does a great all-volunteer organization do when hit by a pandemic? We improvise to modify our programs to continue to support the students, veterans, seniors, and victims of assault that Assistance League® (AL) has been supporting for some 40 years.
Delores Clewe, Links To Learning chair, Fran Fricke and Barbara Tomac, co-chairs of Operation School Bell®, AL's biggest philanthropic program, quickly realized that the 2020 school year was going to be very different.
"We found out that a lot of students did not have computers at home to do remote learning," Fricke said. "We asked our members to donate used computers. That wasn't enough, so we combined our two programs to buy over 430 laptops for the Washoe County schools to loan out to students."
Throughout this year, our Operation School Bell volunteers continued to buy clothing for some of the most deserving students while also reaching out to the schools to help provide clothing for their clothes closets.
"When kids come to school and immediately need extra clothing, these clothes closets are essential," Tomac remarked.
Because the Read to ME program had to be curtailed due to Covid, the reading "Grandmas" created 21 videos, available through the Boys & Girls Club website, for preschoolers to view from home or at the Boys & Girls Club preschool.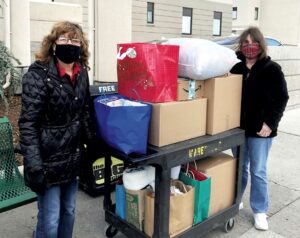 Assistance League members donated four full carts of Christmas presents and supplies for homebound veterans and hospitalized women.
The Essentials team delivered kits complete with a toothbrush, toothpaste, shampoo, soap, comb and more to Communities in Schools, seniors, victims of abuse and other organizations throughout our area.
"Money is very tight this year, so the need for basic grooming supplies has really grown," stated Suzi Jensen, Essentials manager.
The Students in Transition program, aimed at high-school students in need, had to make several adjustments. SIT is still providing clothing, tuition aid scholarships, school supplies Essential hygiene kits, and day bus passes to Washoe County's CIT Program – all within strict COVID restrictions.
Our Veterans Outreach program had to step away from in-person contact programs, but that didn't mean veterans couldn't have their annual baby shower or holiday angel tree. In June, AL hosted a drive-through baby shower. Each of the 31 moms received a diaper bag stuffed with gifts donated by AL members.
"I just can't get over how much you are giving us!" exclaimed Courtney, a Navy veteran.
In September, AL provided the VA Homeless Veterans Stand Down with 235 rolling duffle bags and about 500 jackets. In December, AL members provided 42 gift bags for hospitalized Women Veterans and filled gift requests for 27 homebound Veterans.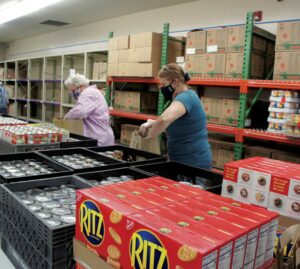 The Assistance League Food Pantry provides over 350 seniors with two bags of groceries every month.
"One Homebound Woman Veteran refused to eat or take her meds until she was able to open and enjoy all her gifts," reported a VA social worker when she made her weekly visit.
We continue to provide for the Homeless Veterans Food Pantry on a monthly basis. AL also provides bus passes for the VA Hospital and Homeless Vet Project. AL members have used their own supplies to sew 823 masks for the VA, thus far.
Our Senior Food Pantry has had to adapt to shortages in the stores which include toilet paper and canned hams. Seniors now receive a variety of canned veggies and protein, fresh produce, cleaning supplies, hygiene items and, of course, TP in their food bags.
Monthly, seniors can pick up two bags of groceries at the Washoe County Senior Center on 9th Street. Food deliveries are still made to homebound seniors by AL members, even if we can't stay and chat during the COVID era.
Overall, this year has been a year of changes. Assistance League also has had to open and then close our Thrift Shop due to COVID. It should be opening in late March.
"We're looking forward to entering the post-COVID era when we can have closer contact with people that need our assistance in our community," said Chapter President Carol Harriman. "Until then, I marvel at how well our over 300 volunteer members have been able to adjust and still make meaningful contributions to our community."