The tables were overflowing with donated baby items that ran the gamut from diapers to bottles, from onesies to hand-knitted hats. Members of Assistance League® of the Chesapeake purchased the items, coming together to do their part to help young mothers deliver healthy babies.
A healthy baby starts with a healthy pregnancy. But engaging pregnant women who do not receive regular prenatal care and are at an elevated risk for having a low birth weight baby or premature birth can be problematic. One of the local programs that addresses this issue is Stork's Nest at the University of Maryland's Baltimore Washington Medical Center (BWMC). Stork's Nest is an incentivized prenatal education program. Young mothers-to-be attend prenatal classes and earn "healthy behavior" points that they can use to shop in the Stork's Nest baby-supply "store." Participants continue to earn points up to a year after the birth of their baby by attending well-baby checkups and making sure immunizations are received on time.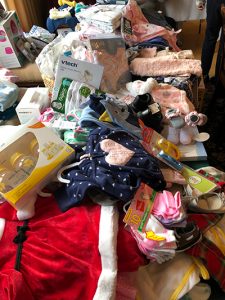 Prenatal experts at BWMC conduct classes on labor and delivery, breastfeeding, basic infant care and safe sleeping. At the same time, Assistance League of the Chesapeake members are busy purchasing infant care items to donate to the Stork's Nest. This happens at the annual Stork's Nest Baby Shower, held this year on December 13 in Annapolis. Generous members donated hundreds of items for infants including baby clothing and supplies, shoes, teething rings, diapers, bottles, hats, monitors and outwear. These amounted to a combined value of over $3,000.
At the shower, the items were personally handed to representatives of Stork's Nest to take back to BWMC. "The Stork's Nest wouldn't be what it is without Assistance League of the Chesapeake," said Kathy Burk, executive director of the BWMC Foundation. Added Lyn Hopkins, Assistance League of the Chesapeake president, "It gives us a wonderful sense of purpose and reward to know how many lives are changed. The babies have a vastly increased chance of a healthy start in life due to our joint effort with BWMC, now in its twelfth year."