Our chapter of Assistance League was really busy in the past fiscal year. Though the coronavirus put most of our programs on hold, we worked creatively to serve our community.
In response to the pandemic, our chapter donated 30 Chromebook computers and headsets to two local elementary schools to lend to families that have more than one student at the school. Families receive from the school system one Chromebook each. But since all learning was now online, if there is more than one student in the family, learning was being impeded. Meade Heights Elementary School (Ft. Meade, Md.) and Georgetown East Elementary School (Annapolis, Md.) received the computers. The computers were paid for with money from our reserves (as voted by our membership) and through individual monetary contributions.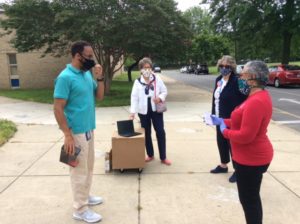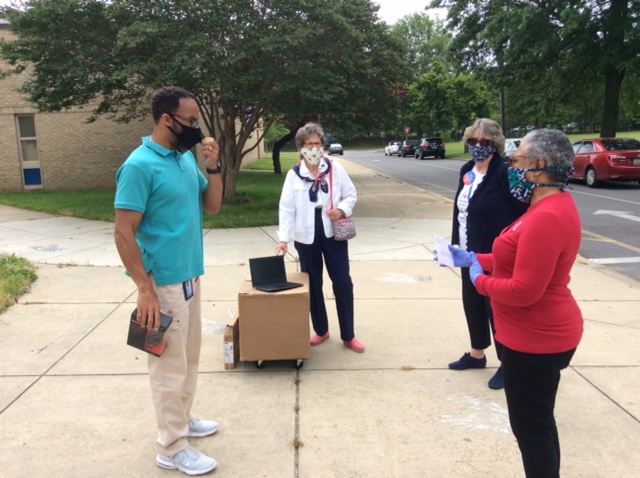 • Our chapter donated hundreds of books to families in the Georgetown East Elementary School neighborhood to be handed out to families when they picked up free meals during the pandemic. These books would normally have been handed directly to the students via our Project Literacy program.
• Our membership increased by 15%.
• We doubled our donations of items for expectant and new mothers to the Stork's Nest redemption store at the Baltimore-Washington Medical Center through our annual Stork's Nest Baby Shower. This initiative is part of the Center's prenatal health-initiatives program for underserved women.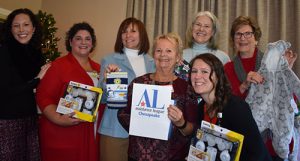 • We launched a successful community marketing campaign which included distribution of marketing packets to local businesses and participation in First Sunday Annapolis (a street fair held monthly in the summer and fall).
• We increased the number of school uniforms given to local schools by 3.5% over the previous year.
• We revitalized our Kids On The Block puppet troupe/program with more members involved and new scripts.
PROGRAMS
Kids In Need
Students in seven Anne Arundel County Title I schools benefited from this program. Marie Bossie, KIN program chair, works almost year-round to ensure proper inventory, accurate measuring and distribution of school uniforms. This year, we distributed 3,508 uniform packages to 2,643 students. We met 100% of the need at Georgetown Elementary School and Tyler Heights Elementary School, 87% at Meade Heights Elementary School, 48% at MacArthur Middle School, 65% at Germantown Elementary School, and 68% at Mills Parole Elementary School. All students receiving uniforms were in the FARM program. There were new counselors at three schools this year, but things went well, and those new counselors supported our program in full.
New this year: Tyler Heights chose to give all 494 students a new uniform in September. While adding work in the fall for the measuring team and packing in September, it lightened the load in January.
We were able to complete uniform distribution to schools before covid-19 closed all schools.
Area dentists continue to help fill our toiletry kits with toothbrushes and toothpaste, and we also continue to collect donations from members and friends for toiletry kits included in each uniform bag. Pam Meehan coordinated that effort. We supplement our donations with purchases of those toiletry items. Marty Sippel assumed responsibility for entering all purchases in our spreadsheet for KIN and for tracking expenses.
Forty-three members participated in some way in KIN.
Kids On The Block Puppet Troupe
We increased the number of puppeteers so that we now have two full troupes plus members who will help with set-up and take-down. Led by Rose Houghton, our troupe took a break from performing in the fall of 2019 in order to train new volunteers and create new scripts. We had 11 performances scheduled as of January 2020 but were able to present only four of those shows due to covid-19. As soon as schools reopen and it is safe to do so, we will continue with these performances for area second grade students, teaching lessons on bullying and learning differences.
Fifteen members participated in KOTB.
Project Literacy
To honor Black History Month, we sponsored a performance of "Going the Distance" by the Smithsonian Discovery Theater. The performance was held on February 14, 2020, at Georgetown East Elementary School in Annapolis, Md. We received the funds for the performance through a grant award from the Arts Council of Anne Arundel County.
We volunteered at Meade Heights Elementary School helping with their Chessie reading program and the Holiday Shop.
At Georgetown East Elementary School (GEES) AL Chesapeake continued providing help in the classrooms, help for special teachers, help in the Media Center, and at the Holiday Shop. Several members helped in classrooms, one helped the ESOL teacher, working one-on-one with three Hispanic sisters, and yet another led a Pen Pal program with two third grade classes and their pen pals from two classes in rural Virginia.
The Holiday Shop is a "shop" of donated gifts that students "purchase" with good-behavior points. The gifts are for the student to give to family members during the holidays. Our members help obtain items, organize set up and take down, help students choose gifts, and wrap the gifts for the students.
AL Chesapeake provided a hard-back book, "Middle School: The Worst Years of My Life", a fiction novel by James Patterson, to each graduating fifth grader at Meade Heights Elementary School and Van Bokkelen Elementary School this year. Due to the pandemic, we were not able to present the books to the students in person. So, working with the school system, books were mailed to each student for us, along with a note from us. Due to covid-19, we had to get creative and ended up giving books to Georgetown East Elementary School administrators to hand out to families who came to the school for free food during the pandemic. Normally, the books would have been given by us to each student individually. We were happy to find this solution because we wanted students to still be able to have a book to read even though they weren't physically in the classroom.
Twenty-seven members participated in Project Literacy.
Sing-Alongs
This program brings music and singing to residents of four area assisted living and nursing home facilities. Each facility gets five different themed "sings" during the year. We had to stop doing the sing-alongs due to covid-19, but we were able to do 17 sing-alongs before March.
Thirty members participated in Sing-Alongs, performing for a total of 349 senior citizens.
Stork's Nest Baby Shower
In December 2019 our members and guests donated $5,800 worth of items to the Stork's Nest redemption store at the Baltimore Washington Medical Center. This year, we held the shower at a local restaurant and were able to increase attendance. Due to that and the extra publicity, we were able to double the value of items donated to the Stork's Nest from our chapter. BWMC tells us that our donations have reached over 1,500 families since our program's inception in 2006.
Twenty members helped plan and implement the Stork's Nest Baby Shower.
VOLUNTEER HOURS
In fiscal year 2019-20, our members donated 5,571 hours to our programs. Additionally, 30 non-member volunteers donated 221 hours of their time to our programs.