Please join us for Winter's Eve 2020 online
Details coming soon!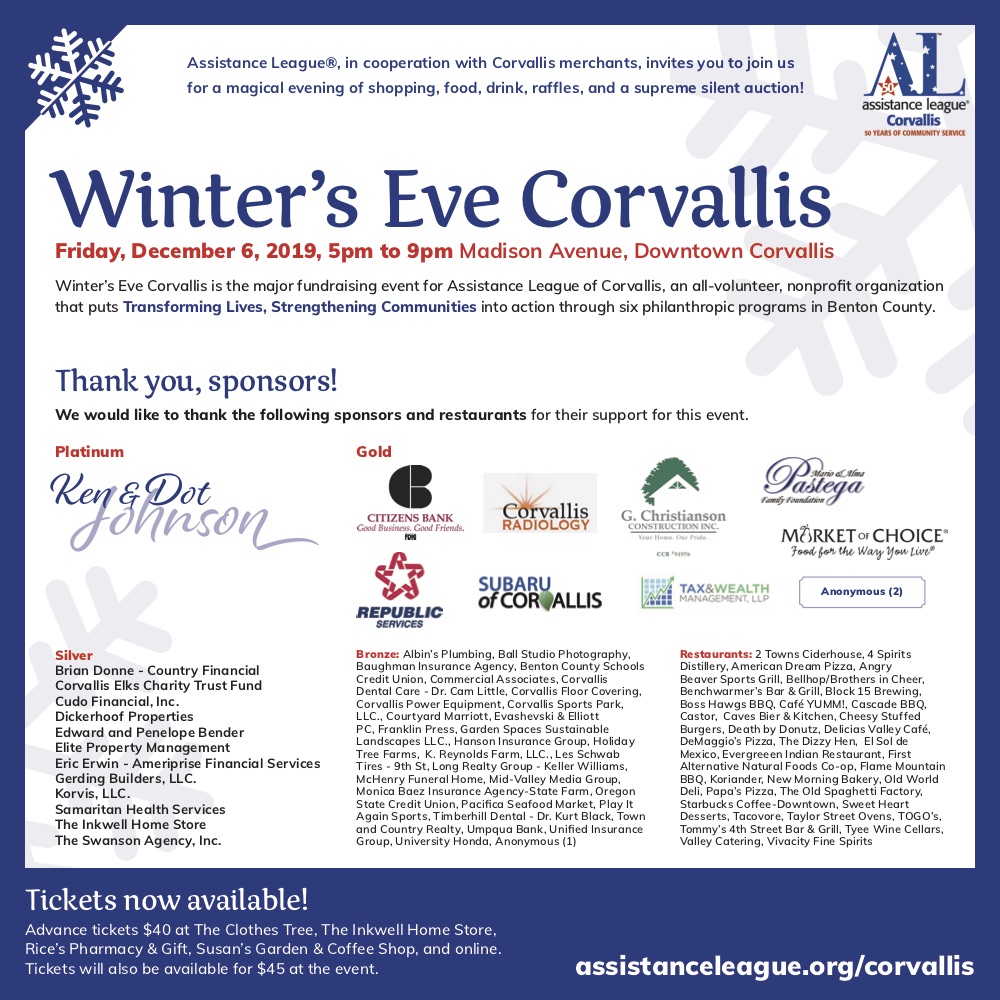 ASSISTANCE LEAGUE OF CORVALLIS would like to thank the many contributors to Winter's Eve Corvallis 2019 for their valuable support. The proceeds from this fundraiser will be returned to the community through the chapter's philanthropic programs, including Operation School Bell®, Dental Ed, SAT Review, Hug-A-Bear, Hygiene Help, & RED (Read Every Day).
Check out photos below to get an idea what Winter's Eve is all about.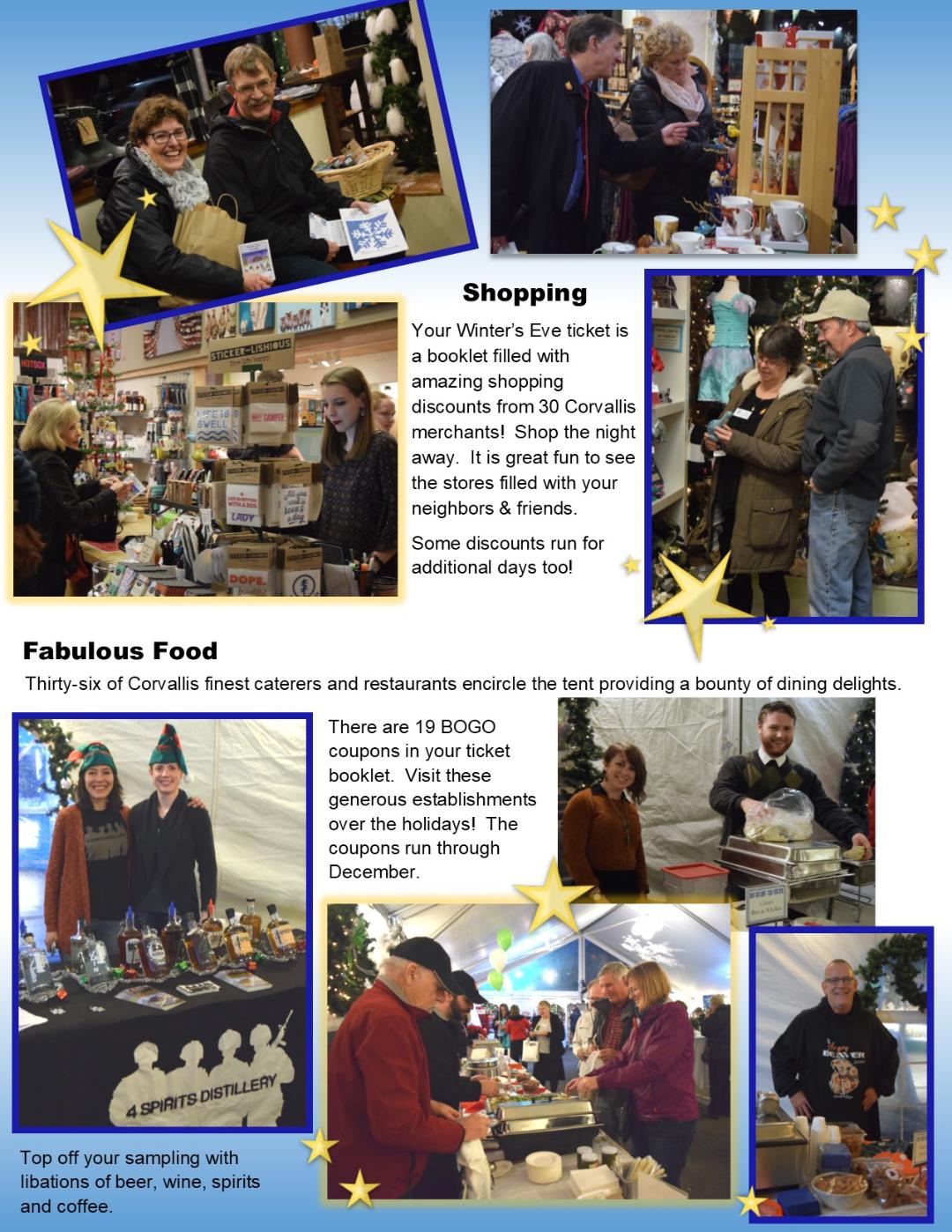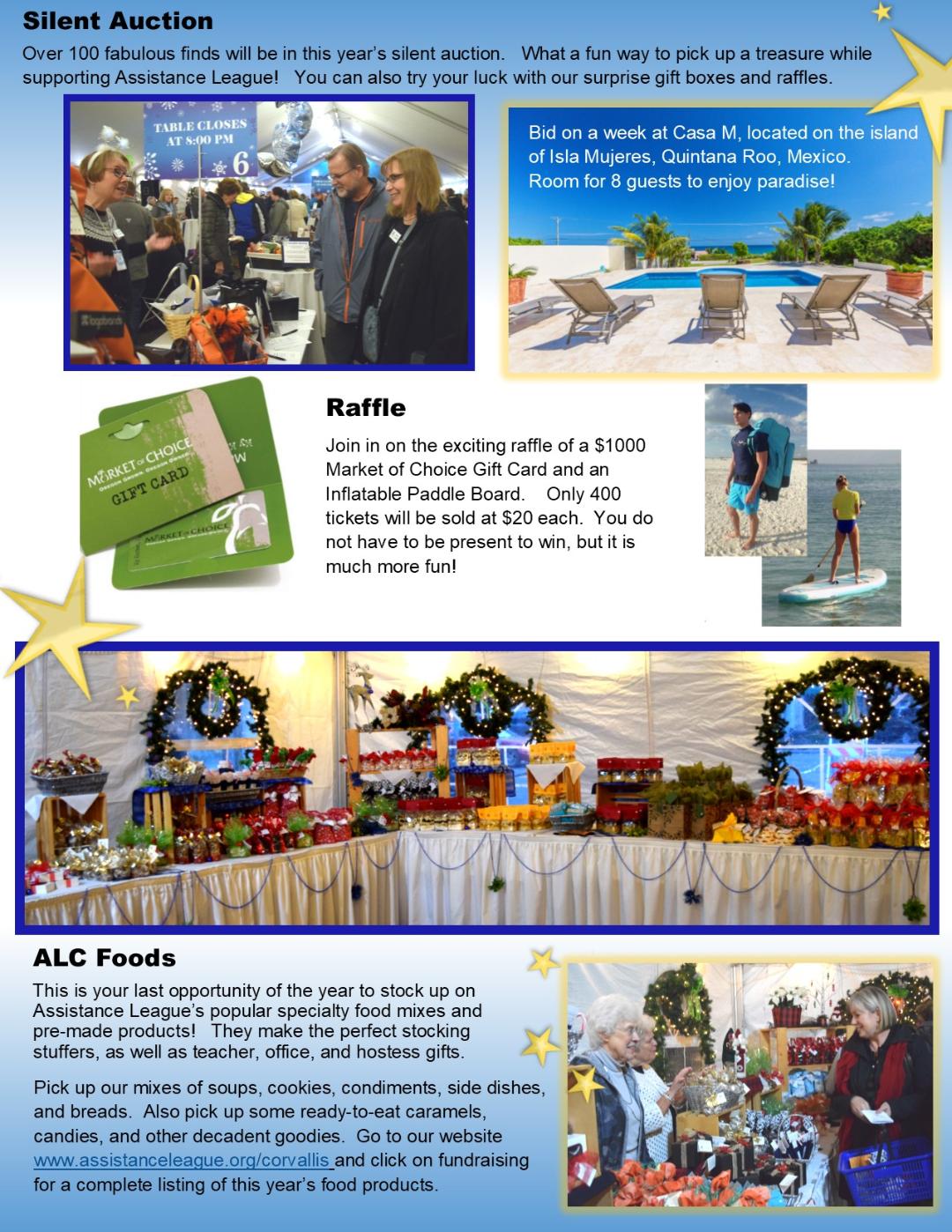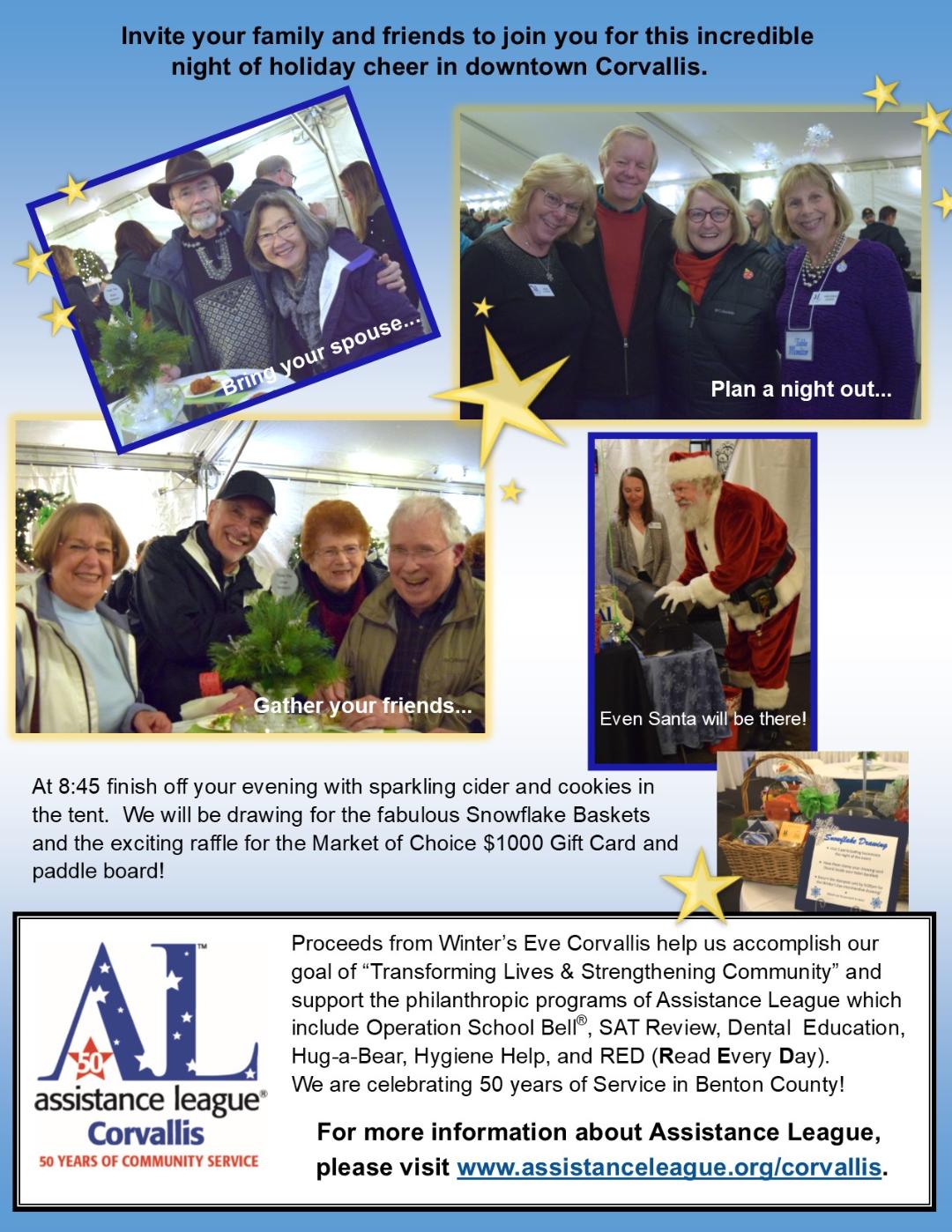 Winter's Eve Corvallis Frequently Asked Questions:
What is Winter's Eve Corvallis?
Winter's Eve Corvallis is the major fundraising event for Assistance League of Corvallis, benefiting local families through our philanthropic programs.  The programs are integral to the health and well-being of children and adults in our community and are supported by our volunteers.
What are the philanthropic programs?
Operation School Bell: Provides new clothing for eligible Benton County children K-12 whose school attendance and performance are threatened by a lack of suitable clothing (over 1000 children served annually)
Hygiene Help: Program serves all qualified students of the 509J School District by providing personal hygiene supplies
RED (Read Every Day): Provides books to new teachers in Benton County for their classroom libraries.
Dental Education: Classes for Benton County sixth graders on proper dental hygiene
SAT Review: Preparatory classes for area high school juniors and seniors to become better prepared for the SAT
Hug-a-Bear: Provides an ongoing supply of teddy bears to local police, fire departments, and other Benton County agencies to comfort children in traumatic situations
Who endorses this event?
In preparation for this unique event, Assistance League of Corvallis has the support of the Chamber of Commerce, the Corvallis Downtown Association, the Madison Avenue Task Force, the Corvallis Independent Business Alliance (CIBA) and Corvallis Tourism.  In addition, each year local merchants support this event.
What is involved with the event?
The focal point of the event is a large elegantly decorated heated tent that is erected on Madison Avenue between 2nd and 3rd streets.  Inside the tent, local businesses set up tables and offer samples of food, adult beverages, soda and coffee.  Assistance League also offers our specialty holiday food items for sale and there is a silent auction with unique and elegant gift items and services.  Each year Jan Roberts Dominquez creates an original holiday painting; this artwork is the cornerstone of our publicity and is available for sale the night of the event.
How can I participate in Winter's Eve Corvallis?
There are many ways to participate.  An individual, merchant or business can be a sponsor (platinum, gold, silver & bronze levels are available), offer a discount and advertise in our ticket booklet and/or provide an item for the silent auction.  Food and catering businesses can participate in the food sample offerings.
Do I need a ticket booklet to attend Winter's Eve?
Each person attending Winter's Eve will need a ticket booklet to enter the tent.  Sponsoring businesses may be eligible to receive a free pass, to be used at their discretion.
What does the ticket entitle me to?
The ticket booklet allows entrance to the tent and contains special discount coupons from sponsoring businesses, generally the night of the event, but some for the entire month of December.  The tent opens at 5:00 pm and closes at 9:00 pm. Merchants are requested to begin taking coupons at 3:00 pm and remain open until 9:00 pm.
Where do I buy a ticket/coupon book for Winter's Eve Corvallis?
Tickets can be purchased at Rice's Pharmacy and Gift, The Inkwell Home Store, The Clothes Tree and Susan's Garden and Coffee Shop; a limit of 800 tickets are sold.
All proceeds from the evening help sustain our six philanthropic programs, including Operation School Bell®, RED (Read Every Day), SAT Review, Dental Education, Hygiene Help, and Hug-a-Bear.