Please join us for our Winter's Eve 2020
Online Auction
Items being offered:  raffle for a $1,000 Market of Choice gift card.  
two-3 day passes to the 2021 Oregon Jamboree, an inflatable paddleboard, OSU gear, and baskets from local businesses, a wide array of gift certificates and items for the home, personal wellness, fashion and more!
November 27th 9 am – December 6th 9 pm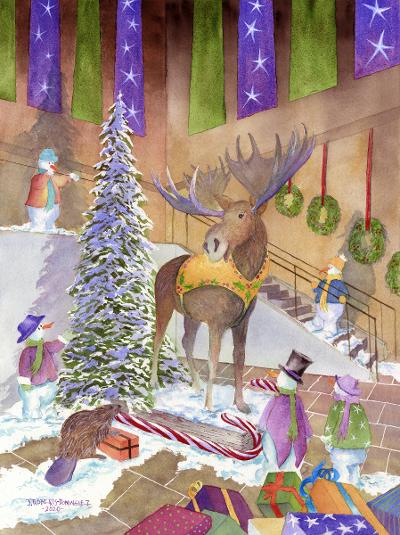 "Private Party"  by Jan Roberts-Dominguez
Jan's Notecards and Holiday Cards featuring Bruce the Moose, mascot of the Benton County museum, are available to purchase at The Inkwell Home store.
ASSISTANCE LEAGUE OF CORVALLIS would like to thank the many contributors to Winter's Eve Corvallis 2020 for their valuable support. The proceeds from this fundraiser will be returned to the community through the chapter's philanthropic programs, including Operation School Bell®, Dental Ed, SAT Review, Hug-A-Bear, Hygiene Help, & RED (Read Every Day).

Check out photos from our 2019 Winter's Eve.