Operation School Bell provides new clothing for eligible Benton County children K-12 whose school attendance and performance are threatened by a lack of suitable clothing. Each student receives a warm jacket, shoes, jeans, shirts, sweats, socks, underwear, and a personal hygiene kit. Older children sixth grade and up receive bras and gym shorts. Recipients are referred to the program by school personnel and social agencies. The average cost to clothe each student is $150.00.
Lending A Hand in the Community
Operation School Bell is the signature philanthropic program of Assistance League chapters across the nation. Operation School Bell became our first service program when our chapter was established in 1968. We are proud to have clothed over 23,500 Benton County schoolchildren since then.

"The children who received the clothing were so excited and thankful to receive it. I cannot begin to put into words the joy and delight they had. One child said "It is like Christmas". Thank you for all you do!"
~Front Office, Muddy Creek Charter School
"Children are thrilled!"
~ Principal, Clemens Elementary
"Families I serve are very, very appreciative of this program."
~ Family Support Liaison, Wilson Elementary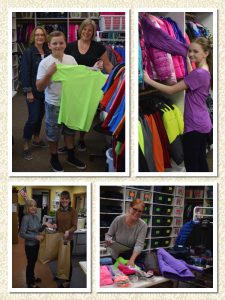 These children are selecting and modeling Operation School Bell clothing. They are models and are not recipients of Operation School Bell clothing.