Please download the four forms below which are required to be completed for membership in Assisteens!
The Assistance League of Denver established the Assisteens Auxiliary in August of 2021 for students in grades 9-12. Thirty-five students from a variety of schools in the metro area have joined the Auxiliary this year.  The program provides a unique opportunity for students in grades 9-12 to develop a sense of community responsibility, self-reliance, personal responsibility, and leadership skills. At the same time the students are meeting their requirements for community service. With the guidance of Co-Coordinators, the Assisteens run their own meetings guided by parliamentary procedure rules. Co-Coordinators mentor the teens as they make decisions which affect the lives of those in need.
The Assisteens have a Board of Directors (Chairman, Vice Chairman, Treasurer and Secretary) as well as four committees.  The committees are Membership, ALD Projects, Technology and Assisteens Projects.  The Membership Committee works to log hours and assists with the MMU or Monday Morning Update.  The ALD Projects Committee works together to plan future events and help with currents events.  The Technology Committee assists with the Assistance League Website and Social Media.  The final committee, Assisteens Projects, helps develop and plan different events and fundraisers.  This organization consists of a hardworking group of teens who welcome new members!
Assisteens Blanket Project
This group of Assisteens teamed up to make ten blankets which will be donated to Urban Peak.  The Assisteens will host another blanket making session some time later in the spring.  Assisteens is open to any high school student interested in joining this fun and highly motivated group.  Community service is our major goal!
Fun Night at Jingle Bell Rock!
Project Aldo Bears!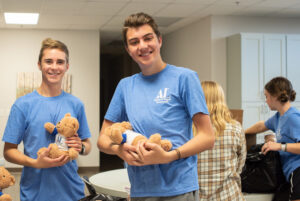 Working Together is Fun!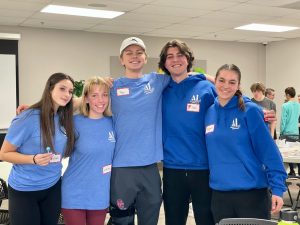 Volunteering at the Thrift Shop
Project Aldo Bears!
Wrapping it Up at Thrift!