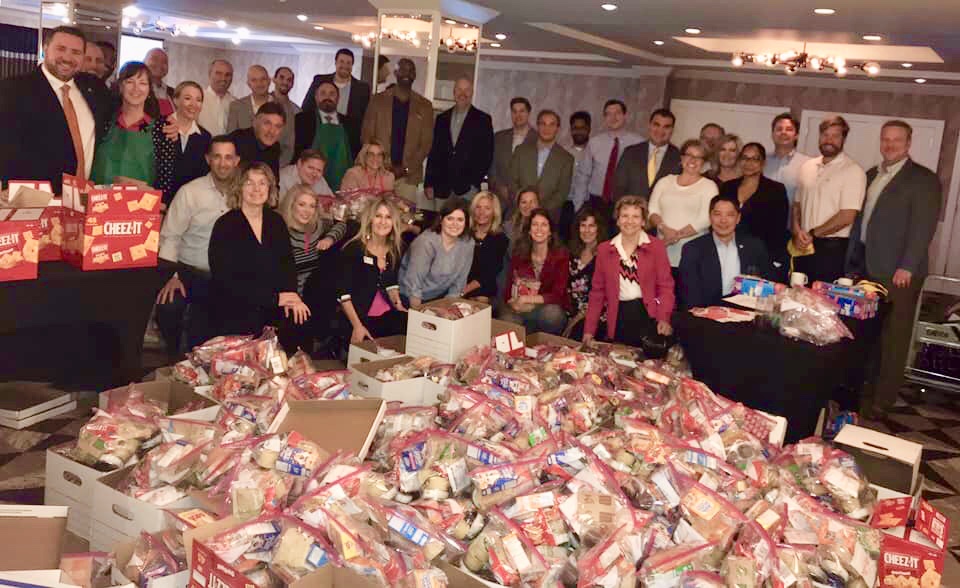 Allstate Insurance Company recently held its Regional Advisory Board conference at Kimpton Hotel Palomar in Washington, D.C. to celebrate successes, plan the future and to give back to our community. We were thrilled that Assistance League of Northern Virginia's Weekend Food for Kids program was the featured volunteer service activity for the "Feed Your Future Volunteer Relay" that took place on day two of the meeting.
Lynn Barron and Karen Amster, board members with the all-volunteer 501(c)(3) nonprofit, were invited to attend to speak about Assistance League's impactful program that increases food security in three local school districts in the region. Following the keynote presentation, the event turned competitive during the meeting! Executives, regional advisory board members comprised of exclusive agents and exclusive financial specialists from D.C., Delaware, Maryland, Virginia and West Virginia, participated in a volunteer relay, packing food for hungry children.
Allstate Senior Communication Consultant Caitlyn Barron coordinated the resources and purchased the nonperishable food items to support The Allstate Foundation Helping Hands in the Community group volunteer event. A team of more than 40 enthusiastic volunteers packed 500+ bags of food for at-risk children whose families struggle to our food on the table on weekends when school meals are not available.
We want to thank Allstate Exclusive Agent Christine Angles, from Manassas, Virginia, who made the introduction to us; and Caitlyn Barron for passionately championing our cause and helping to orchestrate this important event.  Partnering with Allstate gave our organization the opportunity to satisfy an immediate need for food assistance at two Title I elementary schools not currently supported by our food program.  With Allstate's generosity, many children were in good hands this past weekend.
Assistance League of Northern Virginia looks forward to further collaboration with Allstate!