SPOOKTACKULAR FUN!
Assistance League of Northern Virginia is honored to have been chosen by Eye of the Heart (EOTH) as the beneficiary of its Bingo for Charity promotion on two Tuesdays in October.  EOTH is a small business the serves as a liaison to bring together charities, businesses, and community members and to help each find out about and support the other.  Our selection for these events is a privilege.  We are grateful for the chance to spread the word about our organization and all its good works, and also to form a new partnership with EOTH.  In addition, this month's events will be doubly fun because they will feature prizes and promotions with a Halloween theme.
So, please come to the 'Hallow-ingo' for Charity at Crooked Run Fermentation, 22455 Davis Drive, Suite 120, Sterling, VA., on Tuesday, October 12, and Tuesday, October 26, from 7 to 9 pm, for some fun, good food and drink. And be assured that your participation will help Assistance League continue providing much-needed relief to elementary school students and their families in our community.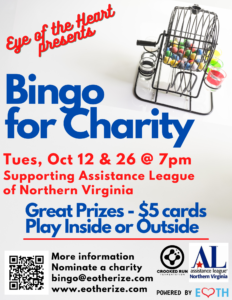 Six members of Assistance League of Northern Virginia were joined by many local participants in a hauntingly fun night of bingo games and Halloween trivia at Crooked Run Fermentation in Sterling.  Our chapter is grateful to have been selected by Eye of the Heart (EOTH) as the charity to receive the proceeds from two Tuesday night bingo competitions in October.  Our EOTH hosts and bingo callers, Stephanie and Stephan, made sure that all the participants had a howlingly good time, and provided only treats, no tricks. The competition was fierce as players tried for a 'Hallow-ingo' and the chance to win fabulous prizes.
If you weren't to attend the first game, don't despair.  The next Bingo event to benefit Assistance League of Northern Virginia will be on October 26, and will again feature a Halloween theme.  Come in costume, if you like, and scare up some good fun and score some boo-tiful treats by purchasing lots of Bingo cards.  You'll increase your chances of winning and the proceeds will benefit students and families at the 11 elementary schools we serve throughout Northern Virginia.