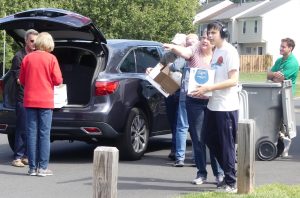 The threatening dark clouds didn't deter our 9 members and 7 community volunteers from ensuring that our recent shred event was another huge success.  We again partnered with the Franklin Farm Foundation to offer the paper-shredding services of Eco Shred and saw 83 cars arrive with boxes of paper to shred.  Some of the participants donated nonperishable food items and we were able to deliver a trunkful of food and drink items for the Community of Faith Food Pantry.  Participants also donated sneakers for our fund-raiser, GotSneakers campaign, and we accumulated 4 bulging bags of sneakers that will not be sent to landfills.  As an added bonus, we sold 11 White House ornaments.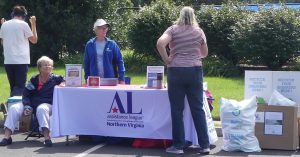 We are indebted to our member, Maureen Dawson, for making the arrangements for another successful shred event, and we applaud the Franklin Farm Social Committee for its efforts to reduce food insecurity through the food drive.  Also, we thank the volunteers who helped with all aspects of this event; we couldn't host this event without you.  Thanks also to Eco-Shred and Bo Miller for the cooperation and support of all of our shred events that have ensured the secure shredding of so many important documents.  And last but not least, we extend our heartfelt gratitude for the ongoing community support not only for this event but also for our other programs.  That support ensures we can continue to deliver essential services to elementary school students and their families throughout Northern Virginia.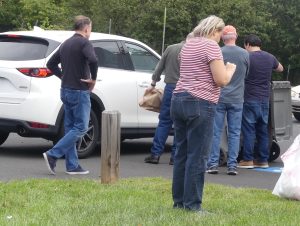 Mark your calendars:  Our next shred event is planned for Saturday morning, April 22, 2023.