Eighteen of our dedicated members gathered recently to assemble items for three of our important programs.  One group assembled 'Baby Bundles' that included beautiful hand-made blankets, hats, sweaters, booties, a Onesie, information about SIDS in English and Spanish, and a board book for new mothers to read to their babies.  We provided 39 Baby Bundles to a clinic that serves low-income families.
Another group assembled toiletry kits that were provided to an elementary school in Manassas to be used as part of its hygiene curriculum to help fourth and fifth graders learn good grooming practices.  Each packet contained deodorant, soap, shampoo, a toothbrush and toothpaste, a comb and hairbrush.  That school also received many school supplies.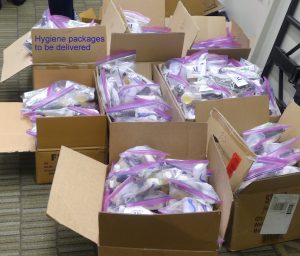 A third assembly line packed 'starter kits' of new clothes for students at eight elementary schools.  Each school received an assortment of basic clothing items, such as sweatpants and sweatshirts, T-shirts, leggings, underwear, and socks.  Nearly 600 clothing items were provided.  Next month, we will hold another major packing event to provide a wider range of clothing items for the schools.