We recently hosted a Thank-You Breakfast to recognize the Dunbarton Hugs Team, in Bristow, for the many ways they have supported our chapter over the years.  Ten Assistance League members provided a delectable assortment of foods for the 17 members of the Hugs Team who attended.  For more than 15 years, residents of the Dunbarton Community have created for us the beautiful heart-shaped Hugs Pillows in vibrant patterns that we pack with items such as small Beanie Babies, a coloring books and crayons, stickers, and activity books.  The team also crafts hand-made baby hats and blankets, quilts, and children's hats and scarves.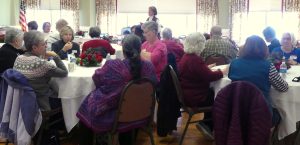 When the meal was finished, our members related several stories to demonstrate the significant impact that the items crafted by the Hugs Team have on the children who receive them.  Before the pandemic, Hugs Pillows had been donated to pediatric patients at a clinic serving low-income families.  Because the clinic couldn't accept the pillows, we found a new audience for the Hugs Pillows and began providing the pillows to Kindergarten students at several schools to welcome them to the classroom and to help them relieve stress and learn coping skills.  The kids and their teachers loved the pillows and their precious artwork reinforced that gratitude.  We also shared the adorable Thank-you notes from some of the kids and teachers who received the Welcome Hugs earlier in the school year.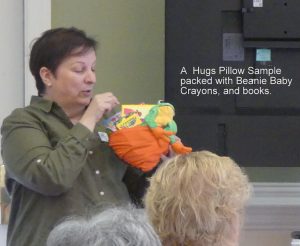 The Talented Hugs team also provides us with a variety of knitted and crochet items, as well as items in the "Baby Bundles" that we provide to the clinic.  The bundles include baby hats and blankets created by the Hugs Team, and items such as onesies and board books to read to their infants, that we provide to new moms.  The moms who receive these bundles appreciate the beauty and uniqueness of the hand-crafted items.  Many recipients would not otherwise have such items.
At the end of the reception, ALNV gratefully accepted more than 600 items that the team had created for us.  That loot included 330 pillows, 184 kid's hats, as well as hair bands, and an assortment of sets that could include baby blankets, hats, scarves, and baby pillows.