We recently held our annual holiday luncheon, a special event at which we reconnect with members, enjoy a meal together, and also hear from representatives from schools we serve regarding our programs.  This year, thanks to our multi-tasking member, Dorine, all attendees received a swag bag containing tasty munchies and a holiday ornament, and three guests won a bottle of wine during a random drawing.  Dorine also had secured Thank-You notes and artwork from students at schools that we serve with our Weekend Food for Kids, New Clothing for Kids, Literacy for Kids, and Hugs Programs.  The personal notes thanked individual members for items the students had received:  weekend food bags, new shoes, new clothing, reading tutoring, books, and Hugs Pillows.  Their sincere gratitude was a touching gesture and helped us know we're making a difference in their lives.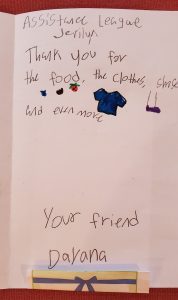 Even in affluent Fairfax County, many families are struggling financially and have not recovered from the pandemic.  Some parents work two jobs, while some are unemployed.  We can't know the situation that some kids face, nor expect that all students enjoy the typical scenario in which students do homework at the kitchen table while mom makes dinner.  Even in wealthy areas of Northern Virginia, some students live in a shared/group home, some in hotels or shelters, and a few are homeless.  Our philanthropic programs try to help the students most in need.
At the luncheon, two counselors from a Fairfax County elementary school emphasized how important our philanthropic programs have been to students and their families, and also to the counselors.  The counselors noted that part of their job is to help students aspire to a better life, and that the many services we've provided help them give the students the most precious gift of all:  HOPE.  They reported that the weekend food bags are essential to ensuring that the kids have meals over the weekend.  The food bags are so important that the students who receive them are rarely absent on the day the bags are distributed.  The grocery gift cards that we provide during the summer also fill the food gap and ensure students have nourishment.  We held a book fair at the school, where every student selected a new book to keep and we also have provided clothing, shoes, and toiletries.  The counselor reported that one student stated Assistance League 'makes us feel good.'
The counselors also shared a few stories showing how Assistance League filled a specific need.  In one instance, the counselor noticed that a boy wasn't walking well and he explained that his feet hurt.  When the counselor measured his feet, she realized he needed shoes that were two sizes larger then what he was wearing.  Thanks to Assistance League, she was able to give him a new pair of sneakers in his size immediately.  A counselor also noted that the tenuous financial situation of some families means that they sometimes move out of the school district to pursue better conditions.  She mentioned that "
some students are with us on Friday and elsewhere on Monday.  Nevertheless, we're able to give them shoes, hats, leggings — we're able to give every child the things they need" because of Assistance League."
Because of the camaraderie, thank you notes, and the reports from the counselors shared at the luncheon, our members were reinvigorated to continue in the new year our commitment to helping the most vulnerable in our community.