Twenty of our dedicated members gathered recently to assemble toiletries and layettes for elementary students and new mothers.  The toiletries were packaged in "Hygiene Kits" that will be provided to older students at three schools in connection with lessons they will receive regarding the proper use of the items in the packets.  Members packed more than 400 kits that included a comb, hairbrush, shampoo, soap, deodorant, toothbrush and toothpaste.
We also packed 64 Baby Bundles that were provided to a clinic serving low-income families.  Each Bundle contained a hand-crafted baby blanket, hat and bib, as well as clothing, a soft hair brush, and board book for mom to read to her infant.  Some of the beautiful handmade items were created and donated by the Dunbarton Hugs Team in Bristow and the Crafts Club of the Church of the Nativity in Burke.  In addition, one of our members donated nine beautiful crocheted baby blankets and another member made the bibs.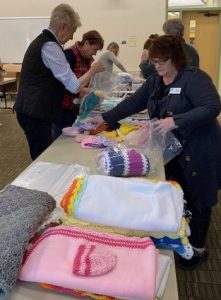 We were also able to provide nine boys jackets to two schools, as well as numerous winter hats, thanks to donations from a supporter.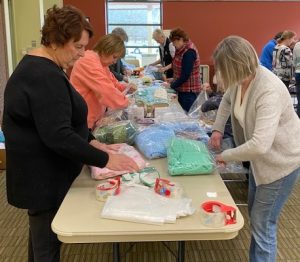 We are honored to be able to provide these beautiful items to grateful students and new moms who need them.  Also, because of our members' hard work and laughter, this fun event was very rewarding and demonstrated why we volunteer: To make a difference in our community.