Our triple-header Earth Day celebration got off to a great start with cars lined up at 10 am in the Franklin Farm parking lot and drivers ready to have their important papers shredded, drop off athletic shoes for our Got-Sneakers Campaign, and donate nonperishable food for the Community of Faith Food Pantry in Franklin Farm.

This year, Boy Scouts from two troops helped us and we welcomed their care and enthusiasm.  Scouts from Troop 17 in Centreville and Troop 1257 in Franklin Farm came prepared and proved their mettle with their careful attention to their assignments.  Some scouts helped by sorting the various food items into crates by type and by sorting and bagging the sneakers, and some scouts helped unload papers from cars to shred, and made sure that no metal, cardboard or other materials that can't be shredded were dumped in the hoppers.  The Franklin Farm Scouts delivered the donated food to the food pantry.
Mother Nature had different plans for our Earth Day observance.  Around noon, the dark clouds opened up and the rainstorm arrived.  Although we needed the rain, we had to cease operations in the face of the threatening storm.  During the 2 hours of good weather, 80 cars drove through with papers to shred, and we collected more than 8 bags of sneakers and plenty of food to help combat food insecurity in the community.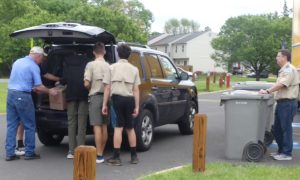 This event was a team effort.  We are grateful to our member, Maureen Dawson, for making the arrangements and reserving the truck from EcoShred, and to the Franklin Farm Social Committee, our long-time partner for these events.  We also appreciate the considerable help from the two Boy Scout Troops, our own members, and community volunteers who helped make this another successful event.  So much support allows us to continue delivering essential services to the most vulnerable in our community.