The Sam Hardman Real Estate Team and its partners, including Amaré Merz, Concierge Mortgage Finance, recently hosted a gathering at the Eavesdrop Brewery in Manassas and selected Assistance League of Northern Virginia to benefit from the event.  The Hardman Team set up a buffet on the Rooftop Patio, where sandwiches and munchies were served to accompany Eavesdrop's assortment of drinks.  Eight of our members attended to provide information about our philanthropic programs that feed, clothe, and nurture children in need at Title 1 elementary schools throughout the area.  Some members joined the Hardman team on the Rooftop Patio to discuss our programs with guests there.  In the Tiki Garden, we displayed samples of our Weekend Food bags, new clothing outfits, shoes, baby layettes, summer books, toiletries, and Hugs pillows.  We also collected shoes for our GotSneakers campaign.
In addition to enjoying the great camaraderie, food, and drink on a beautiful summer day, guests had the opportunity to purchase raffle tickets for two restaurants and a basket of goodies.  Jimmy's Old Town Tavern in Herndon and Great American Restaurants had donated gift certificates for their restaurants, and Carrie, a marvelous member, had assembled a basket full of items to enhance a July 4th barbecue or any celebration.  The winners were very happy with their prizes.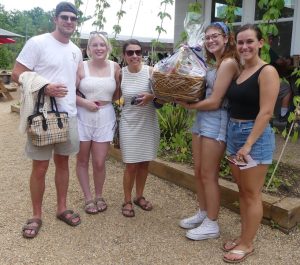 We are grateful to Sam Hardman, Amaré Merz, and associates for selecting Assistance League to participate in this event and thereby allowing us to spread the word about all the good works that we do in the community to help elementary school students and their families.  We hope to continue our partnership with these new friends.