On National Hug & High 5 Day, Assistance League of Northern Virginia held a BEDTIME HUGS workshop.  Twenty very dedicated members and friends packed 420 of our signature heart-shaped pillows.  Each pillow contained a Beanie Baby, a book, a toothbrush and toothpaste.  We hope these Hugs will encourage a good bedtime routine at an early stage.  Several members delivered the pillows to four Title 1 elementary schools in Fairfax and Prince William Counties for their Kindergarten classes.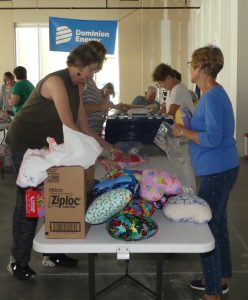 The Dunbarton Hugs Team in Bristow, Virginia, makes these pillows for us.  We could not have such a beautiful Hug Pillow program without these dedicated community volunteers.  Our packing of these custom-made pillows brings every volunteer much joy.  We love selecting the colorful pillows that will be stuffed with goodies and the thrill of finding the perfect Beanies to match the vibrant fabrics.  We packed all those pillows in just over an hour, despite the oohing and aahing about the cute pillow combos.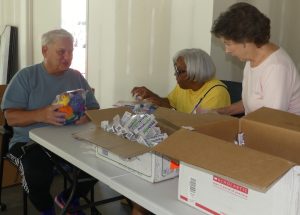 Our next Hugs packing workshop will be in the spring of 2024.  We always welcome new members.  Please consider joining Assistance League so you too can share in the many rewarding experiences that come from being a member!