We've been busy! Here are some 2017-2018 highlights…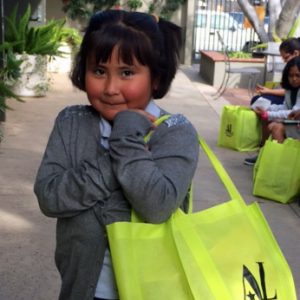 Operation School Bell®
We clothed 1,520 low-income students from local elementary schools.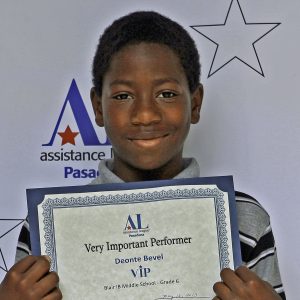 Very Important Performers
We honored 42 local middle school students who made a concerted effort to improve at school.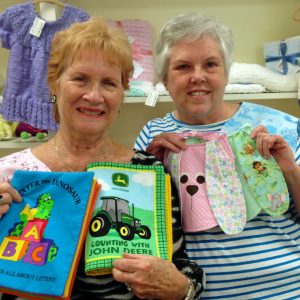 Craft Fair Gift Shop
We returned over $45,000 to 160 senior artisans who showcased their unique artistic talents at our local gift shop!
Bear Hugs
We comforted 1,621 deserving children in distress with huggable bears!
 Here's all we did in 2017-2018…
PROGRAMS AND OUTREACH

The Operation School Bell

®

 program served 1,520 children representing 16 schools from the Pasadena Unified School District (PUSD). Since 1990, our chapter has served 23,700 students!

Assistance League Flintridge continued to partner with us on the Operation School Bell program by supplying hygiene kits, Payless Shoe vouchers, and volunteers for fittings with the students.

 The Bear Hugs program distributed 1,621 teddy bears to comfort traumatized children.

 Craft Fair Gift Shop returned over $45,000 to 160 exhibitors.

 The Assault Survivor Kits® program continued to serve the San Gabriel Valley Medical Center and the Los Angeles County-University of Southern California Medical Center.

 At luncheons in February and May, the Very Important Performers program recognized 42 middle school students from PUSD's seven middle schools. This program has honored 357 students since 2010.

 The SNAP program has been approved by Assistance League and is active in one-time community projects.

CELEBRATIONS and ACCOMPLISHMENTS

  Twelve Past Presidents attended the Past Presidents' Breakfast meeting on February 26.

 Guest speakers included Jeanne Adams (Pasadena Symphony Association), Det. Richard Lee (South Pasadena P.D.), Tim Mayworm (E.D. Journey House), Pietro Rosetti (C.E.O. FVO Solutions), and Megan Katerjian (E.D. Door of Hope).

 Members and Community Volunteers contributed approximately 15,500 volunteer hours. At $25/hr that's equal to $387,500!

 Six new and talented members joined ALP this year. Chapter membership now totals 59 Voting, 12 Associate, and 74 Sustaining members.

 ALP maintains the Gold Medallion on GuideStar, the world's largest source of information on nonprofit organizations.

 The Social Committee coordinated fun social events for members: an afternoon at the Showcase House and performances of Our Town, Pirates of Penzance, and  Bordertown Now at Pasadena Playhouse

 The email marketing databases continued to grow with 881 customer email addresses for Treasure Fair and 481 customers for Craft Fair.

 ALP served as a voting location for the June election.

 Members were publicly recognized during National Volunteer Month with a Thank You ad in the Outlook

FUNDRAISING

 Sales at Treasure Fair, the major source of funding for philanthropic programs, set a record at $201,000 for the year.

 Members and friends contributed over $42,500 to the 2017-2018 Annual Appeal.

 Grants of $27,500 for the Operation School Bell program were received from the Green Foundation, Vons Foundation, the Jameson Foundation and Pasadena Host Lions Club's Memorial Trust Fund.