We've been busy! Here are some 2020-2021 highlights…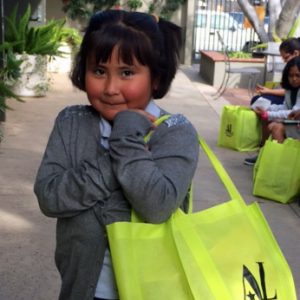 Operation School Bell®
We clothed 1,189 low-income students from Pasadena elementary schools. Through School Supplies for Success we assisted another 841 middle-school students with needed supplies.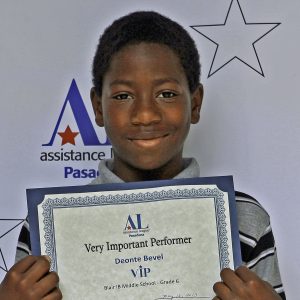 Very Important Performers
We honored 15 local middle school students who made a concerted effort to improve at school.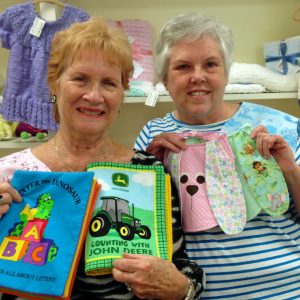 Craft Fair Gift Shop
Despite being closed for part of the year due to Covid-19 Craft Fair still managed to return over $25,000 to 112 senior artisans who showcased their unique artistic talents at our local gift shop!
Bear Hugs
We delivered 1,825 huggable bears to comfort abused or otherwise traumatized children, through the San Gabriel Valley Medical Center, LA County-USC Violence Intervention Program, Shriners Hospital, and Pasadena Police Department.
 Here's all we did in 2020-2021…
PROGRAMS AND OUTREACH

The Operation School Bell

®

program served 1,189 students from the Pasadena Unified School District (PUSD). Since 1990, our chapter has served 27,454 students!

Assistance League Flintridge continued to partner with us on the Operation School Bell program by supplying hygiene kits.

The Bear Hugs program distributed 1,825 teddy bears to comfort traumatized children.

Craft Fair Gift Shop returned over $25,000 to 112 exhibitors.

 The Assault Survivor Kits® program continued to supply the San Gabriel Valley Medical Center and the Los Angeles County-University of Southern California Medical Center with 955 hygiene and clothing items.

Despite Covid-19 school closures the Very Important Performers program recognized 15 middle school students from five PUSD middle schools.

We held five SNAP! events, including collecting school supplies and backpacks for Friends in Deed, donating toys to USMC Toys for Tots program, providing hot lunches for the Women's Room, distributing 150 "Happiness is Essential" bags to front-line workers, and providing $5000 worth of food and supplies for the Pasadena, Senior Center food pantry.

CELEBRATIONS and ACCOMPLISHMENTS

This year we added nine new ALP members. As of May 31, 2021, chapter membership totaled 57 Voting members, 11 Associate members, and 52 Sustaining members.

Due to Covid-19 restrictions meetings were held on-line via Zoom. We were still able to enjoy guest speakers at both membership and board meetings.

The Social and Education committees held a festive on-line Zoom holiday party, and two online Zoom cooking classes for ALP members through Sauté Culinary Academy.

The Strategic Planning committee created a Covid-19 plan that was shared by other chapters of National Assistance League. The committee updated ALP's five-year Strategic Plan and began an Emergency Response Plan for each of our facilities.

 ALP maintains the Gold Medallion on GuideStar, the world's largest source of information on nonprofit organizations.

The email marketing databases continued to grow with 886 customer email addresses for Treasure Fair and 599 customers for Craft Fair.

FUNDRAISING

Despite being open only 18 weeks, for nine hours a week, sales at Treasure Fair, the major source of funding for philanthropic programs, still earned $58,500 for the year.

Members and friends contributed over $65,000 to the 2020-2021 Annual Appeal.

Grants of $23,000 for the Operation School Bell program were received from the Pasadena Tournament of Roses Foundation, the Vons Foundation, the Jameson Foundation, and Pasadena Host Lions Club's Memorial Trust Fund.