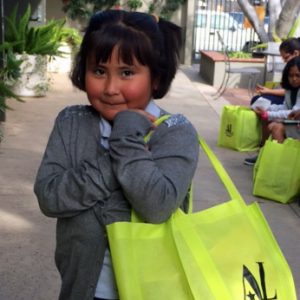 Dressing Children in Need
In Pasadena, Altadena and Sierra Madre Public Schools
In 2017-2018, Operation School Bell® outfitted 1,520 students.
Children who go to school without adequate clothing often suffer low self-esteem.  Students (kindergarten through fifth-grade) are identified by Pasadena School District representatives and brought to Operation School Bell by bus where they shop for new clothing and are outfitted from head to toe with the help of one of our caring member volunteers. For those children who are unable to come to our facilities, we provide them a bag filled with clothing, personal-care items, and an age-appropriate book.  Operation School Bell serves the following elementary schools:
Altadena Elementary
 Cleveland Elementary
 Don Benito Fundamental (when needed)
 Field Elementary
 Franklin Elementary
 Jackson Elementary
 Jefferson Elementary
 Longfellow Elementary
 Madison Elementary
 McKinley School
 Norma Coombs Elementary
 Roosevelt
 San Rafael
 Sierra Madre (when needed)
 Washington Elementary
 Webster
 Willard
 Pasadena foster children, as needed
Thank you Assistance League of Flintridge for your tremendous support of our program! Thank you anonymous donor for supplying us with amazing books for the students!
Operation School Bell enriches children's school experience!