Community Connection
Since 2009, 2,119 people received meals or services on a one-time/short term basis.
Community Kitchen Project: Our chapter helps Rochester Community House serve meals to seniors & families, along with groceries to take home. Delivery of home-bound meals as needed. In FY 2018-19, 348 people received meals.
Senior Dinner at Rochester Community House – June 18, 2017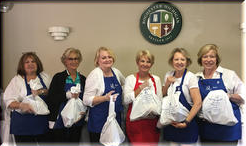 On Sunday, June 18, Assistance League sponsored a Senior Dinner at the Rochester Community House. Happy Seniors enjoyed a meal and were given a bag of grocery staples from the Assistance League. Entertainment and socialization were on the agenda. Assistance League members who joined in the gaiety and served the Seniors were from L to R:  Martha Kent, Linda DiPilato, Colette Stager, Sani Dwyer, Joanne Brown, and Rosemary Dirksen.
Volunteers Preparing Meals for Community Kitchen