Thousands of women, men, and children are assaulted in the State of Washington each year. When survivors are treated at hospitals, their clothing is often taken by law enforcement for use as evidence. Assistance League of the Eastside works with hospitals throughout the state to provide essential care items and new clothing that can be worn home after treatment. We strive to restore dignity at a time when these individuals are most in need of comfort and security.
Assistance League
of the Eastside
is a force for good
in our community.
ASHLEE'S STORY OF RESILIENCE
Learn how receiving an Assault Survivor Kit restores dignity and hope to survivors of assault.
"My patient wasn't going to give me her clothes (that probably had the suspects DNA on them) until I showed her that we had sweats, undies, and hygiene products for her."
-SANE nurse from Bremerton
"I've never been so happy to have a pair of sweats in my life. Just something small, like some clothes to wear, when you've been exposed for a long time, lets you cover up and feel a bit of warmth. To the people who are providing these kits – thank you – it helps a lot."
-A Grateful Survivor
In 2020, our Assault Survivor Program adapted to meet the Covid-19 protocols established by our medical partners. We donned our masks and coordinated deliveries to parking lots.
Each full Assault Survivor Kit contains underwear, socks, hygiene items, a sweatshirt, and sweatpants. For adults, we provide clothing in unisex adult sizes, and for children survivors, we provide childrens sizes of socks and underwear.
The kit is labeled by size, tied with a ribbon, and  a signed note of encouragement is included. Hospital staff securely store clothing until it is needed, and are able to quickly find the required size.
Hospitals are able to order full kits, or mini-kits with only socks, underwear and hygiene items according to their needs.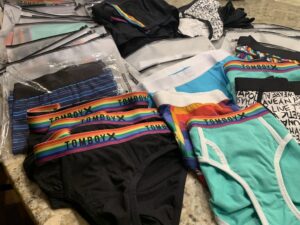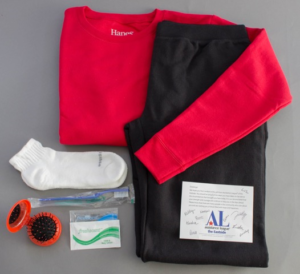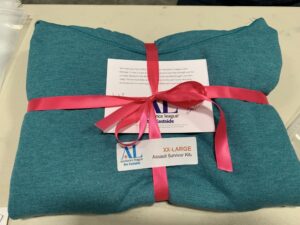 COMMUNITY PARTNERS MAKE A DIFFERENCE
It takes a village to make the Assault Survivor Kits program a success. Assistance League of the Eastside works with over 50 hospitals across the State of Washington to deliver Assault Survivor Kits to individuals at their time of treatment. We are so grateful to the nurses and hospital personnel who work to get these kits into the right hands at the right time.
Grants are an important source of funding for our programs. We appreciate the grants from the following organizations that have been specifically targeted to support the Assault Survivor Kit program.
Helen Martha Schiff Foundation
Puget Sound Energy Foundation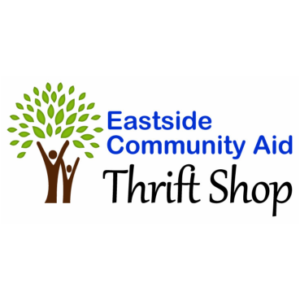 In uplifting others, we all rise.