"Shampagne & Shopping"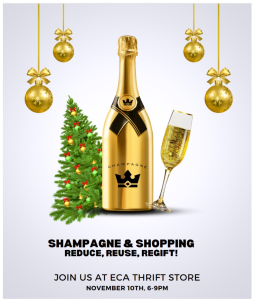 November 10, 2022
ECA Thrift Store
6 – 9 pm
WHAT IS SHAMPAGNE & SHOPPING?
Shampagne & Shopping is a special evening in our Thrift Store where  friends and supporters come together to buy wonderful holiday gift items to support the life-changing work of Assistance League.  AL Eastside will receive
20%
of the profits during this evening.  Make plans to join us for a glass of bubbly and great shopping!  Click
HERE
to donate — THANKS SO MUCH!