Homelessness is an overwhelming life circumstance. The number of women and children that do not have shelter continues to grow in our community. In response, Assistance League of the Eastside provides local shelters with the personal care items needed during the transition from dependence to independence. We also host social events that create a sense of community. It is our wish to develop optimism and hope in the hearts of the families we serve.
Please keep in mind that we accept gifts of appreciated stocks, Qualified Charitable Donations (QCDs) and from donor-advised funds (DAFs) – contact Treasurer@aleastside.org to use these options; otherwise … click here to DONATE
Assistance League
of the Eastside
is a force for good
in our community.
KJ Jack with Acres of Diamonds
Learn how Assistance League of the Eastside helps our partner agencies empower homeless folks towards independence.
"Assistance League of the Eastside has been a tremendous asset to The Sophia Way. The first thing our women receive when they enter our shelter is a welcome basket containing the essential items they desperately need. These baskets mean the world to our clients who have been experiencing homelessness for quite some time. They give the women a sense of dignity, normalcy, and most importantly, hope.

Thank you, Assistance League, for your compassion, generosity, and your dedicated efforts to help us end homelessness for single adult women here on the Eastside."
— Angela Murray, Executive Director, The Sophia Way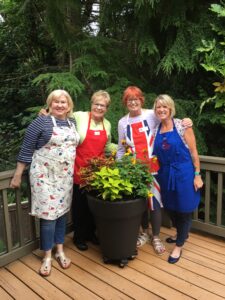 "You really made our day by being the meal donor for our Day Center! This is such an amazing partnership we have with Assistance League of the Eastside. Thank you for supporting the work we do."
— Kavya Dharmarajan, The Sophia Way, Bellevue
COMMUNITY PARTNERS MAKE A DIFFERENCE
Assistance League of the Eastside is proud to partner with agencies that work to end homelessness in our community. To help rebuild lives, we provide welcome baskets and support to women in shelters from the following organizations:
In uplifting others, we all rise.