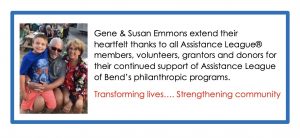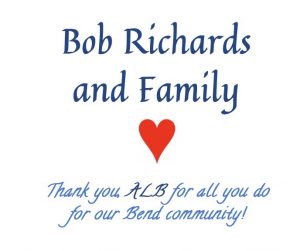 Attendees came dressed for a "Rockin Good Time," in styles from the 50s to the 70s — lettermen's sweaters, saddle shoes, fringed leather vests, tie-dye shirts, and beatnik berets.  Auctioneer Graham Crow did a masterful job helping us raise funds.
Arriving guests were greeted by the beautifully decorated "Giving Tree", representing all those who have been touched this year through Assistance League of Bend philanthropic programs.
83 students who were provided prom dresses and accessories through  Cinderella's Closet.
20 fourth and fifth graders who were taught healthy cooking and nutrition through These Kids are Cookin'.
1,125 hygiene items and 269 holiday gifts provided to seniors in need through Senior Caring.
2,095 handmade hats and knitted knockers provided to cancer patients and the homeless through Hats! Hats! Hats!
2,044 students who received new school clothing through Operation School Bell.
Assistance League of Bend's largest fundraiser for its many philanthropies began in 1995 as Festival of Trees at Awbrey Glen Golf Club.  The event has also been held in Sunriver, at Broken Top Golf Club, and for the last several years at the Riverhouse Convention Center, always right before the holiday season begins in November.  The Gala of Trees, as it became to be known, features a sit-down dinner, live and silent auctions, entertainment, fabulous themed decorations and plenty of festivity. Funds raised in the community stay in the community.