Dressing Children in Need (PreK-12)
Throughout Wichita Public Schools
Since opening in 1987, Operation School Bell has dressed in excess of 50,000 students!!
Children without adequate clothing often suffer low self-esteem, difficulty with peer relations and poor attendance.  Students (preK to 12th grades) are identified by public school personnel. An appointment is made to attend a shopping session at a local area retail store.
Students "go shopping" for brand NEW clothing and are outfitted from head to toe with the assistance of our caring member volunteers.
Each child receives recommended items to meet school dress code and culturally appropriate clothing such as:
uniforms
sweatshirt
jeans
underwear
t-shirts
dresses
socks
a personal care kit containing toiletries
a shoe card for a new pair of shoes – to be redeemed at a local store
gloves and hats
During the 2016-2017 school year, over 2,800  students visited Operation School Bell.  The children all left with a huge bag of new clothes, wide grins and a renewed sense of confidence.
Here are a few thank you notes from children …
Our members volunteered thousand of Hours for Operation School Bell last year and they have already started for the 2018-2019 year.
They love to help the children "shop" with our retail partner. Assistance League members collect hygiene items and work with other volunteer student groups to provide kits for each child. The pictures below show our volunteer and our customer families.
Training is planned for our members to help facilitate family shopping. The training is provided by the Operation School bell team and supported by social workers from USD 259.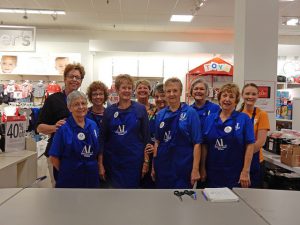 Become a Part of this Special Program
Monetary donations are always appreciated!
Donations of new mittens, hats and books are always needed and welcome.  A tax receipt will be provided.
Toothbrushes, toothpaste, soap and deodorant are purchased.
Contact us if you or your group would like to participate and/or donate items.
Thank You
Assistance League of Wichita would like to thank the following grantors and businesses for the generous donations in support of Operation School Bell:
Spirit Aerosystems Good Neighbor Fund
Operation School Bell forms are provided by social workers at all USD 259 schools
Contact Us
info@alwichita.org
(316) 687-6107