PROVIDING SCHOOL CLOTHING FOR WICHITA PUBLIC SCHOOL
students in Pre-K – 12th grade
Since opening in 1985, Operation School Bell has dressed in excess of 97,000 students!!
Clothes and hygiene kits are provided to USD 259 students based on the need identified by school social workers.  In 2016, Assistance League Wichita created a partnership with JC Penney's West allowing parents and their children to shop for school-appropriate clothing at the store at a reduced cost to the ALW.
In the Fall of 2020, Operation School Bell was expanded to include clothes, hygiene, literacy, school supplies and food.
During the 2020-2021 school year, 6,863 students were served resulting in a total of 97,672 students served since 1985.
During the 2019-2020 school year, over 2800 students participated in Operation School Bell.
Here are a few thank you notes from children.
EACH YEAR ALW MEMBERS VOLUNTEER THOUSANDS OF HOURS FOR OPERATION SCHOOL BELL.
ALW members enjoy watching the children's excitement as they shopped in 2019.  Our retail partner, JC Penney, provided assistance to parents and students during the shopping sessions.  The pictures below show our volunteers and some of the children and families.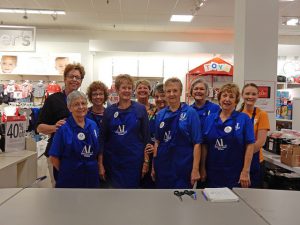 Thank You
Assistance League of Wichita would like to thank the following grantors and businesses for their generous donations in support of Operation School Bell:
TLC Moving Wichita
Spirit AeroSystems Good Neighbor Fund
Ross and Marianna Beach Family Foundation
Wells Fargo Corporate Giving
USD 259 Employees Friendship Fund
Learjet Employees Care Fund
Dwane and Velma Wallace Charitable Foundation
JCPenney Communities Foundation
CONTACT US
info@alwichita.org
(316) 687-6107