Filling the Gap for Students and Teachers
Enhanced Learning Awards
provides supplemental materials and/or programs for Title 1 schools that enrich elementary students' education.
In 2020-2021, 2,239 students were impacted by this program.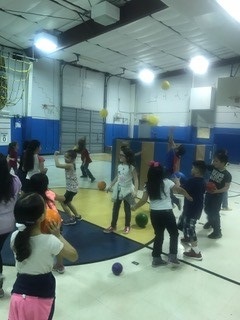 Thank you Assistance League for choosing to help our school!  We appreciate you donating headphones and uniforms to our school each year.  I teach in the 4th grade and will be using those headphones for our testing.
Kaylen Garcia, Ben Franklin Elementary (SAISD)
Thank you so much for the $1000 award presented to our elementary school.  We bought science equipment and supplies with the funds.  The equipment and supplies arrived about one month ago and was set up in our science labs immediately.  Approximately 180 students (3rd, 4th, and 5th graders) now use these pieces of equipment and supplies to fulfill science homework/projects.  The equipment provides the students with more details to draw better analysis, conclusions, and decisions.  As a result, the student gains better appreciation for the specific science projects, the process, and the overall results.
I'm sure many of these students will have a better appreciation of science projects, courses, and perhaps, even want to pursue a college degree in science because of your generous award. Thanks for considering and choosing Southwest Elementary #1 for this award!
Judy Foster, Southwest Elementary #1 Principal
We are so excited to have received this award. The bulletin boards will proudly display student work so that all students who pass by halls and classroom will also enjoy and learn from sample work.
Thank you from the bottom of our hearts for thinking of us!.
Leticia Farias, Family Specialist / Parent Involvement Liasion, Serna Elementary School – NEISD
I am pleased to debrief you on our NASA trip to NASA Houston.  Our 5th grade students were so excited as many have never traveled beyond San Antonio city limits.  The grant you rewarded us with enlightened and expanded our students' minds in the areas of math and science.  I was assigned to a group of ten young girls, every minute of our field trip was memorable as we went on the tour of the Control Center.
Overall, teachers, parents, students and staff created new memories for the entire 5th grade class.  Thank you so much for the grant of $750 to pay for the entrance fee; each student received an entrance ticket, which many stated they were going to keep as a souvenir.
Alma Barrera, Collier Counsel, Harlandale Independent School District
Contact Us
Enhanced Learning Awards
(210) 732-1200