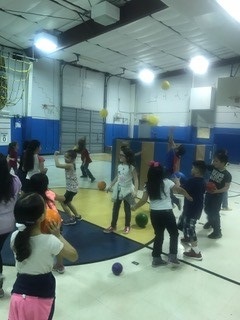 Filling the Gap for Students and Teachers
Assistance League of San Antonio provides funds for supplemental teach materials or equipment as well as any approved activity that enhances the students' learning experience.
Awards are given in response to school applications detailing how the monies will be used and how they will benefit the students.  The award may be used for a single school-wide project or given to teachers, counselors, or nurses for their use.
In 2017-2018,seven awards enriched the lives of 3,354 children.  The results of two awards are shown on the left — one provided physical education equipment for an elementary school; the other provided for a field trip to NASA.
I am pleased to debrief you on our NASA trip to NASA Houston.  Our 5th grade students were so excited as many have never traveled beyond San Antonio city limits.  The grant you rewarded us with enlightened and expanded our students' minds in the areas of math and science.  I was assigned to a group of ten young girls, every minute of our field trip was memorable as we went on the tour of the Control Center.
Overall, teachers, parents, students and staff created new memories for the entire 5th grade class.  Thank you so much for the grant of $750 to pay for the entrance fee; each student received an entrance ticket, which many stated they were going to keep as a souvenir.
Alma Barrera, Collier Counsel, Harlandale Independent School District
Contact Us
Enhanced Learning Awards
(210) 732-1200