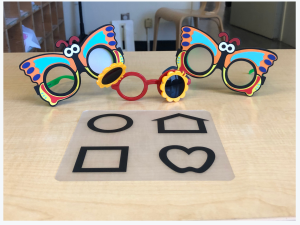 In 2003, AL of San Jose began working in partnership with Prevent Blindness of Northern California, creating a new program called Screening Eyes Early (S.E.E.). Prevent Blindness of Northern California is a non-profit based in San Francisco that was searching for various other non-profits for assistance. Prevent Blindness trained and certified members in various Assistance League chapters in the area. They approached Assistance League of San Jose to set up an eye screening program for preschoolers in collaboration and under their guidance. They explained that some vision problems in young children while in preschool can be treated before they go to elementary school. These vision problems include nearsightedness and amblyopia, known as lazy eye.
AL of San Jose agreed to sign on for the program and members were trained.  At that time, Prevent Blindness had several eye screening programs around Northern California. There was a lot of interest in the program and many who were trained to participate in S.E.E. did so because either they, their children, or grandchildren had vision issues that early screening would have helped.
AL of San Jose members were assigned to preschools for screenings, did additional follow-up as needed, and members evaluated the program annually.  Roughly 20-30 children in each school were screened and 1 or 2 of those children required a follow up.  The follow-up information was given to Prevent Blindness and they took over from there. Throughout the years, we lost some schools and added others.
At first, it only served in the 95120 zip code, and in around 6 local preschools. The first member to lead the program was Marcia Mocsy, who moved out of state after a year. The program went through various chairs in the first few years while Prevent Blindness continued to train and advise. The program was then expanded to include low income preschools outside of the 95120 area.
In 2016 Prevent Blindness changed their focus to expand their own program solely in the San Francisco and Oakland area and no longer trained and worked with the various Assistance League chapters.  AL of San Jose received permission from National and the Board to continue the program and the Chairs at the time, Linda Luporini and Paula Acree, developed the training module based on what they learned from Prevent Blindness and from California's Child Health & Disability Prevention (CHDP) program. This is the same program we have today.
During the years 2020-2021 and 2021-2022 S.E.E. volunteers could not go into the preschools due to Covid. Screening Eyes Early kept in touch with 16 preschools during the pandemic but did not provide services. S.E.E. resumed training volunteers in October & November 2022 for new members joining S.E.E. Vision screening began again in January 2023.
As of early 2023, four additional Agreements were created for pre-schools. AL of San Jose screeners have gone to 6 preschools and have conducted 12 vision screenings. A total of  234 3-5 year olds were screened and 13 referrals were made.
Assistance League of San Jose members now interested in this program take a 3-hour mandatory training session in October that explains the process of vision screening and  require 3 more hours of study and practical training in November to get hands-on experience with the preschoolers. The practical training provides an opportunity to see the screening process in action, to practice with feedback and to ask questions. The vision screening sessions run from January through March. The screening results are given to the preschoolers' parents or guardians. Parents of the students who do not pass the vision screening, receive a referral form with the vision results and are encouraged to take it to an eye doctor for a complete eye exam. AL of San Jose follows up with the preschool to get the results of the eye exam.
Over the period from 2014 to 2020, ten to eighteen preschools were served each year, 3,147 children were screened, 143 children were referred, 57 received glasses, and 5 children were treated for amblyopia.
Screening Eyes Early continues to be a wonderful way to volunteer with other ALSJ members as a team.