Huggable Bears Making A Difference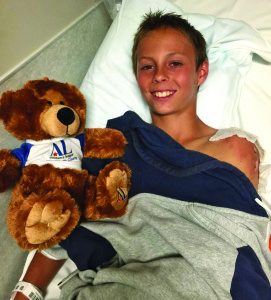 Assistance League of Inland North County provides soft cuddly teddy bears to agencies that help children in crisis situations. These adorable bears are a gift from the heart – softening the sting of a traumatic situation for a child and enabling the service provider to reach out when words fail, or are not enough. At times this sweet bear has been known to comfort an adult in need.
Accomplishments
In the last two years over 4,000 bears have been delivered to local children.
What Our Partners Are Saying
"..we appreciate your gift of children's stuffed bears – awesome! Every contribution to Interfaith makes it possible for people to renew their hope, and get back on their feet.."  Interfaith Community Services
"..we have many kids coming with their mothers, this is a good opportunity to give away the bears .. kids that have received the bears became very happy and appreciative.."  Salvation Army
"We are so grateful for all the Hug-a-Bears you faithfully deliver to our hospital children at Palomar Medical Center throughout the year."  Palomar Pomerado Health
Agencies Helping Us Make A Difference
Escondido Fire Department
Escondido Humane Society
Hidden Valley House – for abused women and children
Interfaith Community Services
Palomar Medical Center (Emergency Room, Laboratory, and Pediatric Units)
Salvation Army Family Services
What Our Members Do
Members who participate in the Hug-A-Bear program may be involved in any of the following activities:
Get together with other members to bag and repack individual bears
Deliver bears to our partnering agencies
Contact agencies to ensure they never run out of bears
Order and receive bear shipments.