Established as a guild 1982
Chartered as a Chapter of National Assistance League 1985
Starting Off Small
Mary Malone of Escondido, Marti Ferry of Lake S
an Marcos and Genie Jenson of Rancho Bernardo held an invitational coffee in March 1982. Their plan was to recruit interested women in establishing an Assistance League chapter in the north county region of San Diego. From those attending that first meeting, 79 women became the charter members of Assistance League of Inland North County (formerly named Assistance League of Escondido Valley).
The first location for chapter meetings was a "little shack" at Washington Park in Escondido. The windows would rattle when the wind blew, but it was rent free.
Assistance League Thrift and Consignment Shop
The first thrift shop business called the Bargain Box began in 1985 in a rented building on South Escondido Boulevard. A wooden cigar box served as a cash register. After renting different properties for several years, a capital campaign to purchase our own building was started. This campaign along with $50,000 from the Paul Newman recipe contest won by member Janet Sutherland and $10,000 donated by Major Market, enabled the chapter to purchase the old AAA property on East Valley Parkway. As the chapter grew, the building became too small to house the service programs.
After a second capital campaign and a generous donation from Matt and Jean McLaughlin, the chapter built a new two story facility called the McLaughlin Chapter House.
Volunteers Serving the Community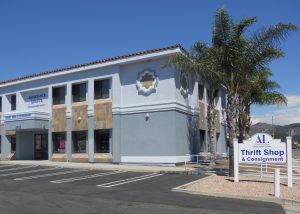 The chapter's first service program, Special Friends to Nursing Homes and Senior Residents was established in 1982. As income from the thrift shop business increased along with proceeds from special event fundraisers, the chapter members identified needs in the community and developed programs to meet those needs. There are currently 8 programs the chapter administers, funds and evaluates to help those in need in our local community. Volunteer opportunities include helping children improve their reading, working to meet the needs of adults and the elderly, volunteering in the thrift and consignment shop and helping to administer all operations of the corporation.
As a member of Assistance League of Inland North County volunteers will
Make a difference in the lives of children and families

Influence the community in positive ways

Use one's talents and skills

Be a leader

Learn new skills and have opportunities to do things you never imagined

Be an appreciated, valued member of Assistance League.