Assistance League of Inland North County Thrift & Consignment Shop
2068 East Valley Parkway
Escondido, CA 92027
(760) 746-7532
HOURS
Currently not open due to Covid-19
Currently not taking donations
POLICIES
We have a "NO RETURN" policy on all items purchased.
SALES
Check the poster by the register for tag colors that are 50% off and other specials!
Great Reputation, Quality Merchandise, and Friendly Member Volunteers!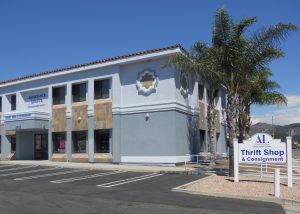 Currently closed until further notice
**Due to the increased Covid-19 numbers currently in our area, Assistance League of Inland North County will no longer be opening on January 5th and will be unable to take your donations until further notice.
For the health and safety of our volunteers and customers we will be closed until it is safe to reopen. We will continue to follow the recommended guidelines and will notify you once we can reopen safely.
We wish you health and to stay safe during these times.
We look forward to reopening our doors and welcoming you back!
The Thrift & Consignment Shop is the Chapter's main fundraiser for our community service programs. It is staffed entirely by volunteers and is stocked with donated merchandise and consignment items. Currently our thrift shop business hours are Tuesdays and Fridays from 10 am to 4 pm.  Currently, we are not open on Saturdays and not taking any donations during the month of December. We will be closing for the holidays after December 18th and will reopen on January 5th. We will start taking donations again on January 8th and on Fridays from 10-2 only.  Visit us and shop in our light and airy shop, from a constantly changing selection of gently-used merchandise. New donations are placed on the shop floor daily. All merchandise is screened, cleaned and polished, if necessary.
Bring your best donations.
Men's, Women's, Children's Clothing & Accessories
Collectibles
Jewelry
Household Items
Pictures
Linens
Furniture
No electronics.
 The Assistance League of Inland North County serves the communities of:
Escondido
Rancho Bernardo
Poway
San Marcos
Camp Pendleton
Valley Center
Bonsall
Ramona
Pauma Valley
Fallbrook
Warner Springs
Julian
What our customers are saying …
"I love shopping here … everything is so clean … I always find something to buy" "Your shop is the Nordstrom's of thrift stores"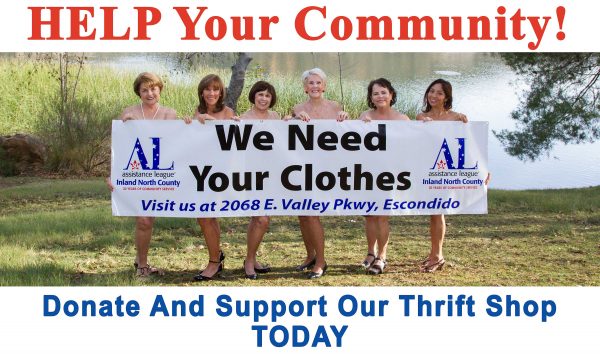 Our "back room" where members work hard to sort, clean, and price donations