Corona-Norco Branch
of Assistance League of Riverside
TRANSFORMING LIVES   ●   STRENGTHENING COMMUNITY
Laurie Gwyn, Branch Chair
Audrie Echnoz, CEO, C-N Family YMCA
Donna Dacier, 2021-2022 Chapter President, Assistance League of Riverside
Laurie Gwyn, Branch Chair
Cassandra Willis, Director, Student & Family Support, CNUSD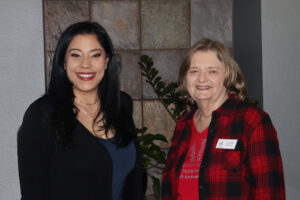 Laurie Gwyn, Branch Chair with
Dr. Alia Rodriguez, Chief Executive, Corona-Norco United Way
The Corona-Norco Branch started June 1, 2021 as the second branch to be authorized by the National Assistance League and operates under the umbrella of the Assistance League of Riverside.  The primary focus of the branch is to focus on meeting the needs of children and youth in the Corona-Norco Unified School District.
As a branch, it recruits local membership and volunteers, manages the programs and raises funds for programs within its service area through grants, donations and local funding efforts.
The branch's first philanthropy, Operation School Bell, started in October 2021 and served 93 children at Target in Corona Crossings during the 2021-2022 fiscal year. The program will continue in 2022-2023 at the Target in Norco with a goal to serve 125 children referred by the Corona-Norco Unified School District.
SOAR (Students Overjoyed About Reading), started in 2021-2022,  provides after school reading and tutoring.
Corona-Norco Branch Leadership Team
Leadership Team members for the 2022-2023 year were elected by members of the Corona-Norco Branch during their June meeting.  They are, from left to right, Linda McIntosh, vice-chairman; Natalie Sessler, secretary; Laurie Gwyn, chairman, and Louise Pileggi, assistant treasurer.  Additionally, Shelley Tanner, who is not pictured, serves as hospitality chairman.
Chair
  Linda McIntosh
Vice Chair
  Lanelle Gordin
Assistant Treasurer
  Ruth Grubb
Secretary
  Audrey Main
Hospitality
  Shelley Tanner
Fundraising
  Patti Berggren/Audrey Main
Public Relations
  Linda Wolff
Operation School Bell
  Carol Nichols
SOAR
  Nonette Allen
Financial Literacy
  John Gordin
Spring Fundraiser
  Denise Caprara/Linda McIntosh
Dining for Dollars
  Nonette Allen/Cynthia Daste
email: c-nbranch@alriverside.org
website: assistanceleague.org/riverside/