Fighting Hunger in Riverside County

Snack Attack delivers bags of healthy snacks and books to local schools every Friday during the school year.
The bags are given by the schools to children who are homeless or from low income backgrounds.
COVID Changes for 2020-2021
School closures provided Snack Attack unique opportunities to partner with local food banks, Parks & Recreation and other community agencies to distribute food to families in need.
The successful use of drive-thru programs is helping fight hunger in our community.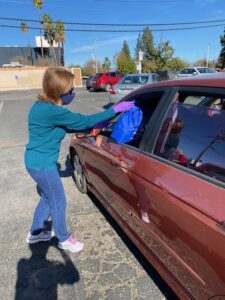 "In addition to the snack bags, my students who participate in the program also receive books during the school year. I wish everyone could see the look of delight on my kindergartners faces when they are handed a book and they realize it is theirs to keep."
Kindergarten Teacher
"I would like to thank you for providing two of my students with weekly weekend snacks. The thought that my kids and their families are hungry breaks my heart."
Elementary School Teacher