Fighting Hunger in Riverside County

Snack Attack delivers bags of healthy snacks to local schools every Friday during the school year.
The bags are given by the schools to children who are homeless or from low income backgrounds.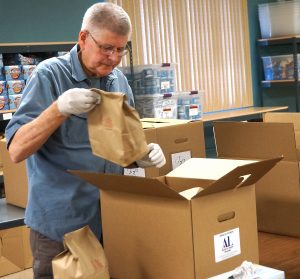 As the schools have rebounded from COVID 19 challenges so has our Snack Attack program.  We currently are serving 13 schools and a community preschool center. The needs are great to help fight hunger in our community and Assistance League of Riverside is working every day to meet this challenge.
We started the school year delivering approximately 860 bags per week but as needs grew that number was increased to 883 bags per week!.  As of February 3rd we have provided more that 18,000 Snack Bags to children in need with several more months to go before school ends!
"In addition to the snack bags, my students who participate in the program also receive books during the school year. I wish everyone could see the look of delight on my kindergartners faces when they are handed a book and they realize it is theirs to keep."
Kindergarten Teacher
"I would like to thank you for providing two of my students with weekly weekend snacks. The thought that my kids and their families are hungry breaks my heart."
Elementary School Teacher