No one wants to wear their poverty.
Operation School Bell provides far more than just a new wardrobe. It allows schoolchildren to fit in better with their peers and empowers them to reach their potential.
We provide new school clothes to kids in need.
For some children, this will be the first time they have had a new pair of shoes, a warm coat, or a toothbrush of their very own.  Now, they truly feel like they fit in with the other kids.
Kids are given confidence to succeed.
New clothing has the potential to boost self-esteem, encourage school attendance, and improve academic performance.
Community and School Partners
Operation School Bell has been providing new school clothes to homeless and economically disadvantaged school children since 1966, serving over 51,000 children since its inception.  Last year, these services were provided to approximately 2000 children from Transitional Kindergarten through 12th grade and some college students.
Currently OSB serves nine Riverside County school districts: Alvord, Corona-Norco (added in 2020-21), Jurupa, Moreno Valley, Nuview, Perris Elementary, Perris Union High School, Riverside and Val Verde.  The program also partners with California School for the Deaf, Guardian Scholars (aged out foster children at UCR), Sherman Indian Institute and students from the Inspire Life Skills programs at Riverside CC and UC Riverside.
The extraordinary support from JCPenney stores in Riverside and Moreno Valley, and Target in Corona, helps us provide students necessary clothing to help them be successful.  Together, we are making a difference in the lives of children in Greater Riverside.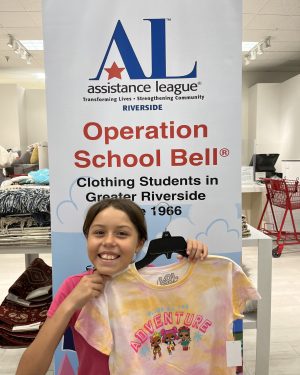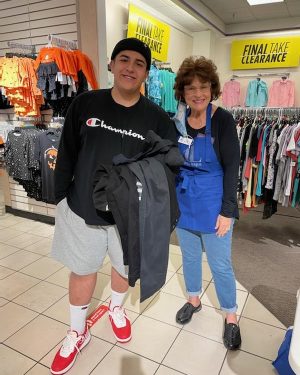 "I am so thankful for this organization.  You all are doing amazing things for our students.  You uplift their spirits and make them feel special and know that they matter."
– District employee who referred students to Operation School Bell
Your donation helps put a smile on a child's face.
"I think this program is awesome, keep up the amazing work.  It is so rewarding and melts my heart to see these children's faces when they are able to wear new clothes, shoes.  Thank you, Thank you!!!"
– School district employee