Thrift Shop to Begin Accepting Public Donations


Monday, November 2, 2020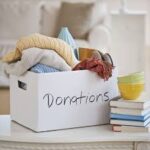 Thank you for saving your donations for Assistance League of Riverside!  We appreciate your patience while we developed a safe plan to accept items again.
We want, and need, your donations to our Thrift Shop. The Thrift Shop is our biggest means of funding programs to provide for the children in our community.  However, we also want to operate safely for our customers, donors, and volunteers.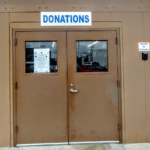 PLEASE ADHERE TO THE FOLLOWING GUIDELINES:
We will accept donations on Mondays and Wednesdays
from 9:00 am until 11:00 am ONLY.
Bring your donations to the parking area behind 3707 Sunnyside Dr, Riverside, and look for the DONATIONS sign above the double doors.
WE WILL ACCEPT ONLY  4 BAGS or BOXES FROM EACH DONOR (any combination ~ i.e. 2 bags and 2 boxes) UNTIL OUR STORAGE SHEDS ARE FULL. We MUST LIMIT DONATIONS because everything is put in storage for 72 hours before use due to coronavirus restrictions.
We are following strict CDC directives.  Therefore, donors:
– Must wear a mask at all times.
– Must arrive during the above times and days only.
– Are to leave NO ITEMS UNATTENDED at the donation door.
– SHOULD ASK for a receipt before leaving.
REMINDER
We request things be in good, clean, working repair.  Ask yourself, "Would I come into the Thrift Store and buy this?" The following cannot be accepted for sale and we are unable to properly discard them:
  Electronics (Computers, phones, tablets, keyboards, Televisions, Copiers, Printers etc.)
  Mattresses and Bed Pillows, Bed Rails and Large Headboards
  Children's items that may be subject to safety recalls:  High Chairs, Car Seats, Cribs, Strollers, Swings, Pack 'n Plays, etc.
  Helmets for children or adults
  Car Parts
  Textbooks, Encyclopedias, VHS tapes
  Building Materials, Window Blinds, Ceiling Light Fixtures
  Large Pictures and Mirrors (over 24in by 18in)
  Golf Clubs
We may accept some furniture if it is in good condition. BEFORE bringing it in to donate, please contact us and arrange to send pictures, so we can determine if we have room to display it.
Once again, our primary concern has always been, and will continue to be, the health and well-being of our valued customers and volunteers.
Thank you for your continued support of the Assistance League of Riverside Thrift Shop.  If you have questions, please contact us via email at thriftshop@alriverside.org.