ALCP "Dresses for Success" at Warrenton High School
Recently when Rod Heyen, Principal at Warrenton High School, asked ALCP to support a new program introduced at Warrenton High School this year, our members Kathleen MacDonald and Molly Hawkins took the lead in supporting this great program. Kathleen and Molly are the ALCP Operation School Bell®'s Heads of School for Warrenton High School.  So what is this all about?
Warrenton High School is working with an Atlanta based non-profit TechBridge Inc. (www.techbridge.org) on a workforce development pilot program.  TechBridge Inc. works to help train and prepare individuals in under-resourced communities for future in-demand careers in technology.  Beginning, September 7th, 2021, 33 WHS junior and senior students at the high school are having the opportunity to take a technology careers exploration class and earn a first round entry level technology job certification.  An important part of this class is having the students create "LinkedIn" social media pages, with professional photos.  
To take these photos students need business dress clothing for the young men and women having their photos taken.  Mr. Heyen estimated that 75% of the students would need assistance with the clothing so he reached out to Molly and Kathleen to see if ALCP could help provide funds for the purchase of the needed clothing.  Of course ALCP could help!  Molly purchased 16 shirt/tie combos for the young men and Kathleen set up a shopping experience for 10 young ladies at TJ Maxx. 
What a positive shopping experience for both the students and ALCP members Mary Davies, Kathy Esnard, Carol Gearin, Molly Hawkins, Kathleen Macdonald and Cheri McGowan.. They worked one-on-one with the young ladies helping them pick interview appropriate outfits they felt would help provide a sense of confidence and professionalism. 
On October 5th, Mr. Heyen scheduled a volunteer photographer and volunteer hair and makeup artist to help with these photos.  Molly, Kathleen and Mary were able to attend the photo shoot at WHS and see the fruits of the ALCP labor. The smiles and confidence that the students displayed and the lessons learned about the importance of looking your best when looking for a potential employer, highlighted why ALCP dresses and supports kids in Clatsop County. WOW!  Great job ladies!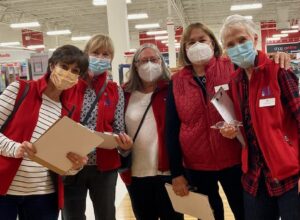 Pictured is:  Mary Davies, Cheri McGowan, Kathleen MacDonald, Molly Hawkins and Kathy Esnard.