"Elaine called from Assistance League about a double stroller that was not nice enough to sell in the thrift shop.  I told her we had a new resident with newborn twins and a toddler.  Elaine delivered the stroller that day.  The new mom cleaned it up and was using it a day later when Elaine returned with a baby sling, allowing the new mom to leave the building with two children in the stroller and one in a sling.  Suddenly she was able to start on her new goal of independence,"
Maria P., Genesis Shelter
Sharing Excess Goods with Other Charities
The Waste Not program donates items that cannot be used in our Attic Treasures thrift shop or philanthropic programs to other charities and social agencies.  Donated items include clothing for children and adults, shoes, housewares, linens, baby items, toys, home health care equipment, and toiletries to help those in crisis. In the most recent year, Assistance League of Atlanta distributed excess items valued at approximately $35,000 through our Waste Not program.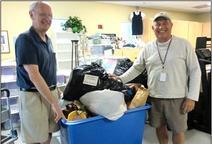 Network of Social Agencies
Community Assistance Center (CAC) brings together community resources to provide compassionate assistance to persons in need, prevent homelessness, alleviate hunger and promote self-sufficiency in the Sandy Springs and Dunwoody areas.
Foster Care Support Foundation, Inc. supplies clothing, toys, and equipment to thousands of children in foster care in Georgia.
Friends of Disabled Adults & Children (FODAC) provides home health care equipment – mobility aids and daily living devices for people with disabilities and the newly injured.
Our House enables homeless families with newborns to remain together and helps them work toward being self-sufficient members of the community.
Movers & Shakers Furniture Ministry provides essential furniture to individuals and families making a fresh start.
Northside Hospital – Atlanta Auxiliary provides compassionate support and quality service to patients, families and visitors, as well as funding for special projects which benefit the hospital.
The Society of St. Vincent de Paul empowers people to achieve self-sufficiency by offering financial, material, educational, and spiritual support.
Assistance League of Atlanta is a 501(c)(3) charitable organization and donations are tax deductible.