Five Great Ways to Donate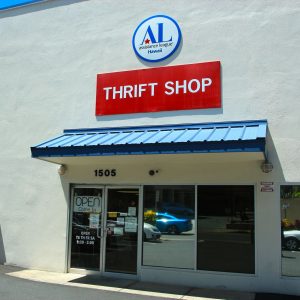 Donations of your gently used items in good condition are sold at our Thrift Shop located at 1505 Young Street in Honolulu Hawaii. Making a purchase at our Thrift Shop helps support our programs too.
Your financial donation is also welcome!
Donate Now!
Donors to Assistance League of Hawaii
Our Sincere Thanks Go To These Generous Donors and Supporters
Access Lifts of Hawaii, Inc.
Amazon Smile
Mary Ann Barthel
William & Wendy Bernfeld
Dale Blaisdell & Paul Nozaki
Josh & Summer Boyd
Andrea Cyriacks
Wendy Cyriacks
Family, Career & Community – Leaders of America
Foodland
Anthony Flynn
Friends of Hawaii Charities
Donna Gedney
George Mason Fund of Hawaii – Community Foundation
Andres Harnisch
Harold K.L. Castle Foundation
Hawaii Lodging and Tourism Association
Doris Hillhouse
Kaneohe Ranch
Western Union
LaVonne Holmberg
Brian Howes
Geri Johnson
Shirley Krause
Sharon & Rod King
Cathy & Jeff Kissel
John Lacy
Carol Lilleberg
Marge Martin
Ellie Melton
Joyce Miyamoto
Arden Moore
Julie Morihara
Wayne Morioka
Betty Parinas
Brenda Reichel
Nancy Sparacino
Eileen Urquhart Estate
Margie Van Swearingen
Ronnie Wassill
Melanie Wogan
Learn More
How We Raised the Money
How We Spent the Money
Before You Donate, You May Want More Detailed Information About Us.