Five Great Ways to Donate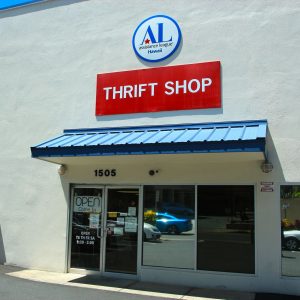 Donations of your gently used items in good condition are sold at our Thrift Shop located at 1505 Young Street in Honolulu Hawaii. Making a purchase at our Thrift Shop helps support our programs too.
Your financial donation is also welcome!
Donate Now!
Donors to Assistance League of Hawaii
Our Sincere Thanks Go To These Generous Donors and Supporters
Akzo Nobel Paint
American Savings Bank
Clothes Chick
The Children's Place
Duke's Clothing of Wahiawa
Foodland
George Mason Fund at HCF
G.N. Wilcox Trust
Global Village Kailua
Harry & Jeanette Weinberg FDN.
Hawaii Community FDN.
Hawaiian Airlines
Hawai'iGas
Hawaiian Sign & Design Co.
HMSA Foundation
Island Air
Knights of Pythias Lodge No.2
MacFarms of Hawaii
McClain Auction
Ohana Movers
Oogenesis Boutique
Haleiwa Oshkosh
Patterns, Shapes & Forms
Rod and Sharen King
Tori Richard
United Airlines
Visitor Industry Charity Walk
Wal-Mart
Learn More
How We Raised the Money
How We Spent the Money
Before You Donate, You May Want More Detailed Information About Us.