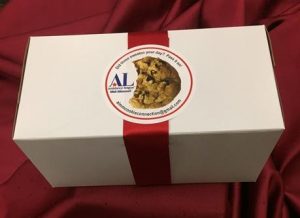 PLEASE VERIFY THAT THE BUSINESS OR LOCATION TO WHICH YOU ARE SENDING COOKIES WILL ALLOW DELIVERIES.
Cookies, made from scratch and baked fresh, are delivered four times per year to local businesses, offices, hospitals, and school personnel. We cannot deliver to private homes, dorms,  or school students.
To order with a check, use this printable order form or obtain the order form at Upscale Resale. Printed forms allow you to submit orders for all year, but orders can only be processed for the current bake. Orders for later in the year will be held and  processed at the time of that bake.
We will be having three bakes this year, and the deadline for ordering is one week before each bake. Bakes will be October 17, February 13, and April 23.