Spotlight on Community Outreach
Since 2014, Assistance League of Santa Ana has reached out to hundreds of disadvantaged individuals in Santa Ana to  fill their most basic needs and to transform lives and strengthen our community.
On-going Community Programs
French Park
Nearly 200 senior residents of this care and rehabilitation center are gifted Christmas presents from their "wish lists" and a holiday event annually.  For many, these gifts are the only ones they'll receive during the holidays, making the giving even more special.  ALSA spends $4,000 on gifts, but many members add to this amount when they purchase the gifts.
"Soc It to Hunger" Food Pantry and Distribution Events
This program assists Santa Ana Unified School District in the collection of canned goods, rice, beans, and other staples, as well as fresh fruits and vegetables, for homeless and disadvantaged students and their families suffering from "food insecurity." Open air food events are held at Santa Ana's Madison Elementary during weeks when school is not in session. Click here to view our event.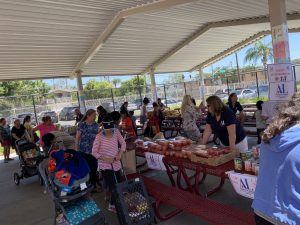 Care Packages for College Scholars
Creating seasonal boxes full of healthy snacks, greeting cards, first-aid items, and other surprises for our Scholarship Program recipients who are now attending college both locally and nationally.  Letters of thanks and appreciation from the students – many who have never been away from home before –  give us the incentive to continue.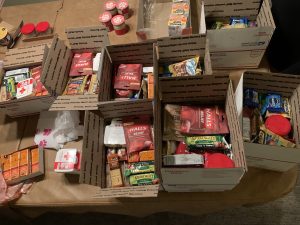 Gift of Giving
Annually, during the Christmas season, Assistance League of Santa Ana serves up a holiday party for Santa Ana families of migrant workers.  Members, friends and outside organizations "adopt" a family and provide gifts from a "wish list"  for all family members. Over 200 family members receive gifts while eating lunch, enjoying face painting and cookie decorating, visiting with Santa and Mrs. Claus, and meeting Mrs. Tooth Fairy in ALSA's Chapter House decorated for the season.  They leave with bags and bags of Christmas gifts – even bicycles and skate boards.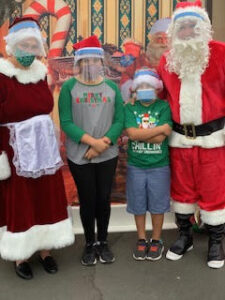 Community Collaborations
Serve-the-People
Over 200 blankets, sleeping bags, suitcases, jackets, etc. were given to the organization's  "missionaries" for distribution to Santa Ana's homeless population.  In addition, a collection of nearly 1,500 pairs of old and damaged eyeglasses and over 600 eyeglass cases from local optometrists, ophthalmologists, and Assistance League chapters were recycled or distributed to the homeless and disadvantaged. Nearly 300 children's beach pails were stuffed with sand toys for outings to the playground and park and distributed to disadvantaged and needy families.
Mercy House
Over 100 pairs of sweatpants for homeless were purchased.
Orange County Harvest Club
Fruit harvested from backyards is donated to the disadvantaged.  In addition, harvesting equipment and other items were purchased for this on-going endeavor.
MOMS Baby Supply Drive
To support expectant mothers  who need community services, over 70 Baby Care Kits, 5,000 diapers, and formula, and donations of baby clothing, bottles, and toys were purchased, collected and distributed.
Women Helping Women/Men2Work Drive
Donated  handbags, briefcases, business attire, shoes, and accessories were collected and given to disadvantaged women and men who seek employment support services. These items give them a "leg up" for job interviews and continued employment success.
Operation Clean
One hundred boxes of laundry pods, dryer sheets, and trash bags were purchased to help  homeless college students with their laundry.  One hundred reusable laundry bags were also filled with supplies for homeless families in need within the Santa Ana Unified School District.
Laurel House
Hygiene items, paper products, food, cleaning products, linens, and entertainment/restaurant gift cards were given to teen girls going through life-changing crises and residing at Laurel House.
Hands Together Donation
In support of school readiness programs and a family literacy center, arts and crafts supplies, 13 Nabi Jr. tablets, and a projector for the children's exercise program were donated to this award-winning organization whose founder was ALSA member Janet Elerding.