Dental Center closed due to the COVID-19 pandemic.
DENTAL CENTER
We Create Healthy Smiles!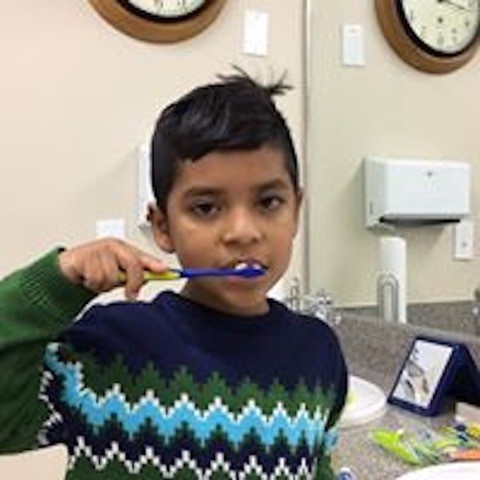 History
The Dental Program was founded jointly by Junior Auxiliary and Katharine Irvine Auxiliary of Assistance League of Santa Ana in 1975 and is now located at 1028 W. 2nd Street on the Assistance League of Santa Ana campus.  The Dental Center's administration, dentist, staff and Katharine Irvine Dental Center Committee volunteers provide quality dental care in a personal and caring environment.
Program Criteria
The patients accepted in the program must live in Santa Ana and neighboring cities.  The age range for patients is from infants/toddlers to 26 years of age.  They are referred by school nurses, members of the local dental community, or family and friends of patients and volunteers.
The Dental Program provides dental treatment to patients from families with limited financial resources.  We are a provider for patients enrolled in the Denti-Cal/Medi-Cal program.
Our Team
Peter H. Leou, D.D.S.: Dr. Leou has been practicing dentistry for over 25 years, treating children and adults.  He graduated from UCLA School of Dentistry in 1993.  After obtaining a dental degree, he completed a graduate program in general dentistry (Advanced Education in General Dentistry).  Currently, he has a private practice in Foothill Ranch, CA.  He has been involved with the Assistance League of Santa Ana Dental Center for more than 15 years.
Dr. Leou is accompanied by a caring staff that consists of a Registered Dental Assistant and a front office administrator.
Financial Information
We accept Denti-Cal/Medical insurance for those patients enrolled.  We provide quality service at affordable fees that start as low as $15. Payment for services are made by cash or debit card. Knowing that your dental health is important, we do our best to provide you with the quality service you deserve.
Assistance League of Santa Ana Dental Center
1028 W. 2nd Street
Santa Ana, California 92703
714-835-6727
Hours
Monday: 8:00 a.m. to 2:00 p.m.
Tuesday: 11:00 a.m. to 5;00 p.m.
Wednesday: 11:00 a.m. to 5:00 p.m.