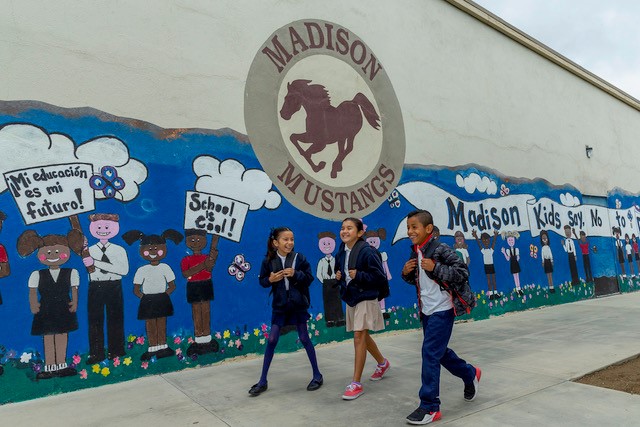 Operation School Bell® is Assistance League's signature program and provides new school uniforms to in-need Santa Ana Unified School District students. This program annually distributes approximately 3,000 new uniforms, undergarments, shoes and socks, jackets, backpacks, hygiene kits, and school supplies to K-8 students. Each child also receives a book appropriate for their grade level. This program provides 1,000 uniforms for homeless students under the McKinney-Vento Act.
Operation School Bell's goal is to give SAUSD students the boost of confidence they need to live up to their potential. We believe no student should fail to attend or perform in school for lack of adequate clothing. Through Operation School Bell, the focus is on attending school regularly and becoming a fully engaged learner in a safe and supportive environment.
Teachers value the results!
People like you help us clothe 3,000 children each school year!
If you would like to donate to Operation School Bell, contact our office Tuesday – Friday at (714) 664-0547. Every gift makes a difference, whether you donate $150 to completely outfit a student, or $1,500 for ten outfits. Smaller gifts help with the purchase of part of a uniform.