Operation School Bell provides new school clothes to underprivileged children living in the Victor Valley. Properly clothed, and with a sense of pride in their appearance, they attend school with anticipation, improved attendance and eagerness to learn.

The Beginning… Operation School Bell began in 1987 providing new school clothes to 214 students. Over the years, disadvantaged children from kindergarten through sixth grade have come with their parents to Assistance League of Victor Valley Operation School Bell office and received two complete sets of school clothes and a winter coat from caring member volunteers.
Result… Since Operation School Bell began, 25,887 local children have received school clothing. In 2016-17 alone, we provided clothing to 1407 school children.
Today… Students from grade K- 5 and Middle School children grade 6 – 8 attend shopping events at  two local department store where they choose their own school-appropriate clothing with the help of their parents and Assistance League member volunteers.  This year we added one store that carried school uniforms that are required by some schools.   The students also receive shoe cards and toiletries.   Exit interviews with participants showed a 99% approval rating for our events and it was also reported that 92% of the children clothed stayed the same or improved their attendance in school.
Kids Selecting New School Clothes
Future … our goal is to continue providing school clothes to a larger number of young school children and expand the program to include older children.
This is where our "Sock It to Em" fundraising campaign invites you be part of this great program. It takes $100 to $125 to clothe one child.  Your tax deductible contribution, small or large, makes it possible.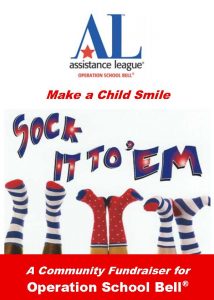 Watch your mail box starting in September 2017.
Contact Us
Operation School Bell
(760) 961-2468