Operation School Bell is Assistance League's signature program. Historically, this program has provided new school clothes to children in need living in the Victor Valley. We know that if properly clothed, and with a sense of pride in their appearance, students will attend school with anticipation, improved attendance, and an eagerness to learn.
The Beginning — Operation School Bell began in 1987 providing new school clothes to 214 students. Over the years, children from kindergarten through sixth grade have come with their parents to the Assistance League of Victor Valley Operation School Bell office and received two complete sets of school clothes and a winter coat from caring member volunteers.
Result — Since the Operation School Bell program began, over 30,000 local children have received school clothing, and recently other essential needs. In 2021-2022 alone, we helped serve 3,619 students.
Today — Students from grade K – 12 attend shopping events at two local department stores where they choose their own school-appropriate clothing, with the help of their parents and Assistance League member volunteers.  We are excited to be partnering with Target and JC Penney.
The results of the 2019 Outcome survey of the local school staff partnering with Assistance League of Victor Valley's Operation School Bell program, indicates that 64% of participating students demonstrated a positive change in classroom behavior, confidence and level of engagement with peers and/or school activities, with 21% of students demonstrating a significant change. Operation School Bell resulted in an 84% positive impact on our students.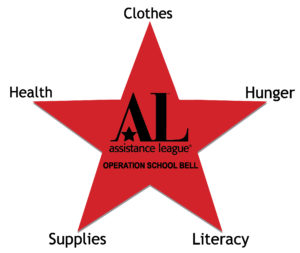 The goal of Operation School Bell is to help school age children succeed in school by providing new school clothing, health assistance, literacy programs, cultural and higher educational enrichment and to also address hunger problems. Assistance League of Victor Valley will continue to address all the five points of the star as shown in the Operation School Bell Star.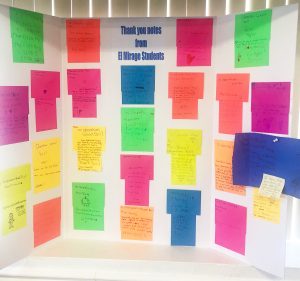 We are grateful to receive so many wonderful letters of thanks!
Kids Selecting New School Clothes
Future — Our goal is to continue providing school clothes to a larger number of K-12th grade students.
This is where our "Sock It To 'Em" fundraising campaign invites you to be part of this great program. It takes $100 to $125 to clothe one child.  Your tax-deductible contribution, small or large, makes it possible.
Campaign Runs August 1st through December 31st!
National Assistance League Operation School Bell Award
At our Installation Luncheon on May 11th, the Apple Valley Unified School District Family Centers (at the District Office as well as at individual School Sites) were presented with the National Assistance League Operation School Bell Award. Present to accept the award form Operation School Bell Chairman, Sandi Maberry, and our President Kathie Bordonaro were:
Trenae Nelson
– AVUSD Superintendent
Mariana Torres -Director of Equity and Access
Aurora Martinez
– ESC Family Center Coordinator
Cindy Carasa-Phoenix Academy Family Center Coordinator
Veronica Gonzalez-Phoenix Academy Counselor (Previous FCC)
Zayra Hall-Granite Hills High School Family Center Coordinator
Karina Ramirez-Equity and Access Secretary (Previous FCC at YL)
Perla Rios-Yucca Loma Family Center Coordinator
Jacqueline Tostado-Sandia Academy Family Center Coordinator
Please join us in congratulating them!!
Contact Us
Operation School Bell
(760) 961-2468